Garage Door Finishes – What Lies Beneath?
The finish that is applied to a garage door can provide hidden advantages, often unrealised by homeowners looking for high quality products.
Of course, the very best manufacturers produce garage doors to complement a home's architectural style and personal taste, but they also 'design-in' important practical benefits – To help make them look good for longer and withstand 'The elements.'
In this article, Eastern Garage Doors delves beneath the beauty of different surface finishes, with durability in mind, to explore the additional qualities they can offer.
Natural Wood
Cedar for example provides nature's own good looks and has natural oils to help it withstand high-moisture and resist warping, cracking, or rotting. The material's aerated organic characteristics also provides effective insulation against heat loss.
Cleaning it on a regular basis, will remove any dust or dirt that can make the wood look drab and with re-staining only required every 3 years, it takes minimal effort to keep it in pristine condition, whilst shielding it from long-term damage.
Smooth Finish
Smooth finishes are mainly used on modern and contemporary dwellings. They offer an exceptionally clean, crisp look, in keeping with this type of building design. When applied to up and over garage doors, for instance, high-grade galvanised steel is used with a zinc coating to protect the base metal against corrosion, coupled with thick powder coated paint, to deliver good resistance to chips and wear.
Meanwhile, smooth finishes on sectional door panels are also made to last with the very best manufactures delivering wear resistance and durability from multi-layers which include a sealed top coating, adhesion primer, a corrosion resistance steel layer, and additional protective coatings wrapped around a foam core with integrated thermal insulation.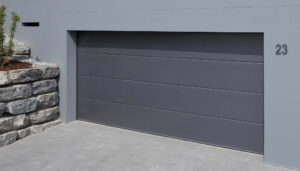 Woodgrain  
From a visual perspective, this finish generally tends to be installed in period properties, converted barns, and cottages, as its life-like wood effect complements the architectural style. Its advantages are that it is very forgiving and doesn't readily show up dents, and scratches, though if it does, minor scratches can be easily repaired. Woodgrain surface finishes emulate real wood textures, but unlike natural wood it does not need to be treated or stained.
Further attention to detail by top manufacturers' can be seen in some designs which provide close grain textures that look like carefully sanded wood, or wide grain with a more rustic character.
Manufacturers also imitate the natural world with SLATEGRAIN surface finishes which provide a stone effect for high-end, modern architectural styles, along with SILKGRAIN finishes which given they're ultra-silky surface can contribute to a smooth-running automated door, thereby minimising wear, and tear.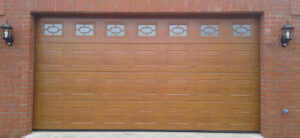 GRP
On Glass Reinforced Polyester (GRP) doors the material is reinforced with very fine strands of glass and placed into a mould to create either a smooth gloss white surface or woodgrain surface texture. The material is lightweight, durable, and easy to maintain, and can feature a UV protective gel coating, useful for coastal areas to combat sea salt, and prevent discolouration overtime.
Foil Laminated
This finish is generally installed to complement foil laminated windows and front entrance doors, it makes timber-look finishes more realistic. Its advantages are that it is a very hard-wearing surface as it is applied by a heat bonding process, with some carrying a 7-year guarantee.
Roller Door Profiles
Alongside belt systems placed between curtain layers on the very highest quality automated roller garage doors to reduce scratching, a high-quality coating on the inside and outside of the door's surface provides additional protection and makes them easy to clean. Smooth and grain-style finishes are both available and can be fitted with an abrasion-resistant surface protection to preserve the UV-resistant plastic film coating on the profiles over a long time.
All these options can create a very different overall effect on a garage door. A useful tip would be to check all finishes that are available before making a final decision. Textures are as varied as they are pleasing on the eye, especially when looking at the best quality garage doors. So, considering them as part of the overall design is just as important as choosing the right colour, to achieve the aesthetic you want.
Moreover, understanding each option's ability to contribute towards long-term value can protect your investment. To get the best finish, which endures the test of time, may mean spending a little bit more. However, the pay-off will save you hundreds of pounds in the long-run when compared to high maintenance, low quality, low budget options.