Exploring the Strengths of Galvanised Garage Doors
One term that often crops up in discussions about garage doors is "galvanisation." But what does it mean for a garage door to be galvanised? And if so, what benefits does it bring? In this blog, we explain the benefits galvanising provides and uncover the reasons behind its popularity.
Understanding Galvanisation
Before delving into the specifics of steel garage doors, let's understand what galvanisation is. It is a process that involves coating metal, usually steel, with a layer of zinc to protect it from corrosion. This is done through a chemical process or by dipping the metal into molten zinc, resulting in a protective zinc layer that acts as a barrier against rust, moisture, and other environmental factors that can degrade metal over time.
Are Garage Doors Galvanised?
Yes, garage doors are often galvanised, especially those produced by top manufacturers who utilise high-quality galvanised steel in the construction of up and over garage doors. The base metal is protected by a zinc coating, which serves as a barrier against corrosive elements. Additionally, all surfaces, including up to the cut edges, are covered with a polyester primer coating and a generous layer of powder-coat paint for added protection. Similar production methods are used for other door styles like side-hinged and sectional doors, with steel panels typically encompassing a foam filling for enhanced insulation. Manufacturers such as Garador and Hormann, known for their thick gauge steel, invisible welding, durable powder coat finish, and robust counterbalance lifting gear, offer a 10-year guarantee.
Additional elements
Top-tier models go beyond just the door panel when it comes to galvanisation. Another essential component of a garage door is the torsion spring. The torsion spring stores energy, creating torque that aids in the opening and closing of the door. Additionally, these springs can also have a zinc coating. The quality of the steel used is also crucial in providing the necessary structural strength for a garage door. High-quality up and over options are constructed around a frame, which acts as a boundary structure. This frame is made from high-grade galvanised steel, serving as a sturdy chassis that ensures a robust and stable door construction. Furthermore, galvanised steel braces are used to provide leaf reinforcement, enhancing the door's stability.
Conclusion
When considering a garage door for your home, the question of whether it's galvanised is an important one. It offers remarkable benefits, from enhanced corrosion resistance and longevity to reduced maintenance requirements. So, if you're looking for a durable, low-maintenance garage door that can withstand the test of time, this cost-effective option might just be the perfect choice for you. Other materials are available including grp, timber, or aluminium.
Exploring the Strengths of Galvanised Garage Doors
For car enthusiasts, the garage is more than just a place to park vehicles; it's a haven to securely park and showcase prized possessions. As your collection grows or you delve into custom projects, space limitations become apparent. One solution to this problem is to broaden your garage door entrance. Eastern Garage Doors explores the benefits of doing this and the crucial role lintels play in this process especially when transforming two single garages into one.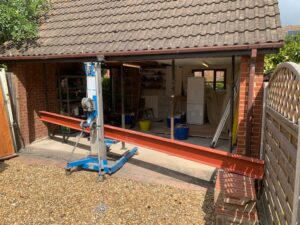 Why consider?
Accommodate Valuable and Larger Vehicles:
Renovating classic cars to their former glory and the emergence of larger SUVs and specialty vehicles, makes maneuverability around tight openings where there is a central pillar in the way very restrictive. Removing this barrier allows you to comfortably park and access your garage space without the risk of accidental damage or scratches. It can give you the confidence to get in and out of the garage without scraping the car or knocking off a wing mirror. With a more accessible entrance you can manoeuvre the car into a better position that'll suit you.
Facilitate Car Modifications:
Enhancing your vehicle's performance and appearance is a breeze when you have ample garage space dedicated to this purpose. This allows you to work on your car with ease and create a space tailored to your needs. Furthermore, specialist garage fit out services can help you to efficiently use the extra room by making tooling and the working area much more practical.
Improve Accessibility:
Increasing entrance space can also improve accessibility for individuals with mobility challenges. Garage door specialists can provide special zero-rated VAT garage door adaptions for the disabled subject to status. Adding a double door can in some instances make your garage more wheelchair friendly. No one wants to get soaked in the rain whilst trying to park in a tight space.
Saves on servicing:
Having one door is less expensive than two. You will find yourself having to do less repairs on one single door, and it goes without saying it'll require less general maintenance than two.
The Role of the Garage Door Lintel
Now that we've highlighted the benefits of increased garage access, let's delve into the significance of lintels in this process:
Structural Support:
One aspect of broadening garage door access is the process of cutting into the current wall or removal of a central pillar to make a bigger opening. This modification can compromise the structural strength of the wall, so it is crucial to add extra support. Lintels are used to span the expanded opening and ensure proper distribution and support of the weight from the wall above.
Load-Bearing Capacity:
Lintels are offered in a range of materials, such as steel, reinforced concrete, and engineered wood, each providing distinct load-bearing capabilities. Expert surveyors meticulously select the suitable lintel according to the dimensions of the garage door and the weight it must bear, thereby avoiding any potential structural problems.
Even Weight Distribution:
A well-installed lintel ensures that the additional load created by the larger garage door is evenly distributed along the lintel's length. This ensures that any new installation functions smoothly and safely.
Professional Installation and Lintel Selection:
Lintel installation is a complex process that require the expertise of experienced professionals. Therefore it is vital to seek an expert. Consult with a reputable garage door specialist who can assess your garage's current structure and advise on the appropriate lintel type and size for your project. They will also ensure high-quality materials are used and have the skills and tools to cut the brickwork accurately and install the lintel for optimal performance and safety.
Conclusion
Creating more entry/exit space is a fantastic option, making the garage more versatile and accommodating. Remember that such modifications require meticulous planning and professional execution.
The role of lintels cannot be overstated. They not only distribute the weight of the wall above the opening but also prevent potential wall damage and ensure smooth operation of the garage door.
So, whether you dream of parking a larger SUV or a custom-built automotive masterpiece, or have restrictive mobility, consider the possibilities that creating more capacity to get and work around your garage offers. Invest in professional guidance and materials to create a secure and usable space where you can continue to nurture your passion for cars or simply address a long-standing problem of difficult access.
Revamp Your Car Haven
Garage Doors aren't always an obvious weak point in your home when looking to save energy. Some of the leading culprits are typically windows, front doors, or poor insulation in the attic. Although this isn't a particular issue with detached garages, heat loss in a home which has an integral garage perhaps under a bedroom, or used as a home office or gym, can be a problem. The amount of loss can vary depending on the size of the garage door, the type of insulation, and the weather. In this article we look at some of the best performing pre-insulated garage doors and contributing factors – What materials are the best? How can good design influence the outcome? Why does quality manufacture count?
What is the measure for heat loss?
Guidance amongst manufacturers is provided through U-values. The U value of a garage door is a measure of the amount of heat that passes through a surface area of 1m2 for each degree of temperature difference between the inside and outside. Therefore, the lower the U value, the more energy-efficient the material is.
Are there any building regulations?
Although there is no specific legislation directly applying U-values to insulated garage doors, Part L of the Building Regulations, concerning the conservation of fuel and power, does deal with garage conversions, for example when a previously exempt unheated space becomes part of a heated dwelling. A garage door used to access the space, if being retained or upgraded, may have to adhere to 'change to energy' status, in which case the energy efficiency requirements outlined in the regulations may apply.
Multi-layered protection.
In a similar fashion to people wearing lots of clothing layers in winter, garage door manufacturers use multi-layered construction techniques to save energy. This involves different materials to create a sandwich-like double skin in steel, aluminium, or vinyl, around rigid foam. This provides excellent insulation properties while maintaining the strength and durability of the door.
Examples of these include:
Novoferm's Evolution Premium, constructed as a broken sandwich panel design to create thermal separation of the outer and inner shells. The benefit is a significantly improved heat insulation value equal to 0.46 W/m2K when compared to other door solutions with 45 mm section thicknesses. (See highlights below)
The Novoferm ISO70, a sub 1.0 W/m² K insulator which similarly comprises built-in layers of CFC free polyurethane rigid foam insulation between a galvanised steel double skin and a total section thickness of 70 mm.
Hörmann's galvanised steel 67 mm thick sectional garage door which also offers some of the lowest U-values below 1.0 W/m² K.
Furthermore, if you want to lighten a dark garage space with glazing that isn't detrimental to the heat saving you seek, then, these can be supplied with a triple-glazed window that also provides excellent heat insulation.
Thermal Break Features of the Novoferm Evolution Premium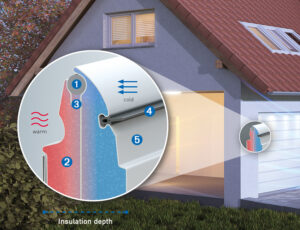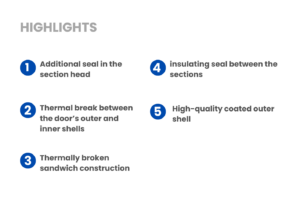 Do garage doors provide weather shielding?
With poorly insulated or low-grade products, air leaks can still occur around the edges of a garage door. This is why high-end manufacturers focus R&D on improving weather stripping around the door. Clever product innovation built into the 'Evolution Premium' and other models include all-surround seals (some double), as part of a 'Thermo Frame' design:
In the section head
Between each panel
At the base of the door
Other manufacturers such as Hörmann similarly invest in weather-shielding features, with:
Seals fitted to the floor closing the bottom edge of the door to provide barrier-free access whilst preventing the penetration of water – these seals also compensate for floor unevenness.
Plastic profiles between the frame and brickwork to create a thermal break which improves insulation by up to 15% – a performance statistic which applies to their 5000×2250 mm double-skinned sectional garage door LPU 42 model.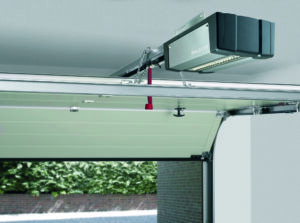 Is wood a good insulator?
It's no surprise that timber garage doors allow for better insulation and airtightness. Cedar wood's cellular structure creates natural air spaces that give it an insulation value higher than most woods, as well as having excellent sound suppression and absorption qualities.
Are side hinged garage doors energy efficient?
Side hinged garage doors are available in single or double skin options. Single skin doors are a cost-effective option and are best suited to spaces where there's no need for insulation or draught sealing. Double skin doors are a thicker, insulated alternative, better suited to environments where it's important to keep them warm and dry. The Novoferm DuoPort side hinged garage door provides a good bespoke, made to order example of this, with a 45 mm rigid Polyurethane (PUR) foam core, coupled with a block door frame providing outstanding insulation.
Polyurethane systems are among the best-performing insulation materials used in construction (See the behaviour of polyurethane systems as thermal insulators). Low thermal conductivity is reached with a minimum of thickness, making for a lighter weight product, especially when the door leaf frames are also made from high-quality aluminium.
Sectional Doors v Roller Doors – Which are the best insulators?
Sectional garage doors are better at saving energy than roller garage doors. For all the reasons given above they are intentionally made and tested for this purpose. Roller garage doors, on the other hand, are made up of individual slats, which are foam-filled.  As such they are perceived to be energy efficient. However, whilst this will offer some insulation, roller garage doors are untested on a fitted door. Because the interlock between the laths/slats are not sealed they are unable to carry a meaningful U value. The gaps simply don't prevent air and moisture from escaping.
What other advantages are there?
The heat saving designs of high-quality garage doors also have other significant benefits.
Absorbs sound: The insulation materials absorb internal and external noise. It creates low noise when opening and closing too, reducing unsettling rattles and creaks, compared to low value doors.
Strength: Insulated options are stronger, compared to the uninsulated options. With more resistance to dents and damage, the highest quality sectional garage doors, for example when well maintained, can have an overall lifespan of more than 35 years.
Conclusion
As energy efficiency becomes increasingly important, garage door manufacturers are making strides in improving insulation properties. New materials, multi-layered construction, improved seal design, and weather stripping, are all contributing to the creation of garage doors that are more efficient than ever before. Homeowners looking to upgrade their garage doors can now choose from a range of options that provide superior insulation and help to reduce energy bills. Government incentives around upgrading homes such as the new ECO+ scheme will also help homeowners get onboard with eco-conscious products. There has never been a better opportunity to put energy efficiency at the heart of your home improvement project.
Best Energy Saving Garage Doors
The finish that is applied to a garage door can provide hidden advantages, often unrealised by homeowners looking for high quality products.
Of course, the very best manufacturers produce garage doors to complement a home's architectural style and personal taste, but they also 'design-in' important practical benefits – To help make them look good for longer and withstand 'The elements.'
In this article, Eastern Garage Doors delves beneath the beauty of different surface finishes, with durability in mind, to explore the additional qualities they can offer.
Natural Wood
Cedar for example provides nature's own good looks and has natural oils to help it withstand high-moisture and resist warping, cracking, or rotting. The material's aerated organic characteristics also provides effective insulation against heat loss.
Cleaning it on a regular basis, will remove any dust or dirt that can make the wood look drab and with re-staining only required every 3 years, it takes minimal effort to keep it in pristine condition, whilst shielding it from long-term damage.
Smooth Finish
Smooth finishes are mainly used on modern and contemporary dwellings. They offer an exceptionally clean, crisp look, in keeping with this type of building design. When applied to up and over garage doors, for instance, high-grade galvanised steel is used with a zinc coating to protect the base metal against corrosion, coupled with thick powder coated paint, to deliver good resistance to chips and wear.
Meanwhile, smooth finishes on sectional door panels are also made to last with the very best manufactures delivering wear resistance and durability from multi-layers which include a sealed top coating, adhesion primer, a corrosion resistance steel layer, and additional protective coatings wrapped around a foam core with integrated thermal insulation.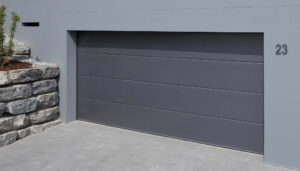 Woodgrain  
From a visual perspective, this finish generally tends to be installed in period properties, converted barns, and cottages, as its life-like wood effect complements the architectural style. Its advantages are that it is very forgiving and doesn't readily show up dents, and scratches, though if it does, minor scratches can be easily repaired. Woodgrain surface finishes emulate real wood textures, but unlike natural wood it does not need to be treated or stained.
Further attention to detail by top manufacturers' can be seen in some designs which provide close grain textures that look like carefully sanded wood, or wide grain with a more rustic character.
Manufacturers also imitate the natural world with SLATEGRAIN surface finishes which provide a stone effect for high-end, modern architectural styles, along with SILKGRAIN finishes which given they're ultra-silky surface can contribute to a smooth-running automated door, thereby minimising wear, and tear.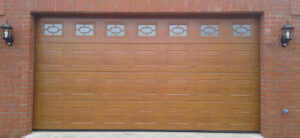 GRP
On Glass Reinforced Polyester (GRP) doors the material is reinforced with very fine strands of glass and placed into a mould to create either a smooth gloss white surface or woodgrain surface texture. The material is lightweight, durable, and easy to maintain, and can feature a UV protective gel coating, useful for coastal areas to combat sea salt, and prevent discolouration overtime.
Foil Laminated
This finish is generally installed to complement foil laminated windows and front entrance doors, it makes timber-look finishes more realistic. Its advantages are that it is a very hard-wearing surface as it is applied by a heat bonding process, with some carrying a 7-year guarantee.
Roller Door Profiles
Alongside belt systems placed between curtain layers on the very highest quality automated roller garage doors to reduce scratching, a high-quality coating on the inside and outside of the door's surface provides additional protection and makes them easy to clean. Smooth and grain-style finishes are both available and can be fitted with an abrasion-resistant surface protection to preserve the UV-resistant plastic film coating on the profiles over a long time.
All these options can create a very different overall effect on a garage door. A useful tip would be to check all finishes that are available before making a final decision. Textures are as varied as they are pleasing on the eye, especially when looking at the best quality garage doors. So, considering them as part of the overall design is just as important as choosing the right colour, to achieve the aesthetic you want.
Moreover, understanding each option's ability to contribute towards long-term value can protect your investment. To get the best finish, which endures the test of time, may mean spending a little bit more. However, the pay-off will save you hundreds of pounds in the long-run when compared to high maintenance, low quality, low budget options. 
Garage Door Finishes – What Lies Beneath?
Roller garage doors, depending on which installation company you select, can vary widely in quality, design, and use of components. Being aware of the differences is key to making the right choice. To help you we have compiled a list of the top things to look out for:
Green credentials
If you are looking for top-notch insulation, then other garage door types, for instance, sectional are better. None the less, roller garage doors with double-skinned foam filled slats can provide good draught exclusion. The very best manufacturers apply robust 'green credentials' to the development of parts, using environmentally friendly materials to produce sustainable products. The use of 100% CFC-Free polyurethane insulation foam is an example of this.
As a 'door type' comparison, take 'U' values – a measure of how effective a material is as an insulator. According to performance data from Teckentrup, one of the largest door producers in Europe, their own sectional insulated doors around 2500mm x 2125mm in size will offer a 'U' value of 1.4 W/m2k, whereas insulated roller garage doors are circa 4.0 W/m2k – the higher the number, the poorer the performance.
Looking into the future, increasing demand for energy-efficient doors will be driven by the global trend for energy conservation. Governments are promoting innovation to aid high energy consumption and reduce carbon footprint. Therefore, the integration of energy-efficient products due to changes in policy and the need to construct green buildings will surge demand for garage doors with effective thermal properties. The best manufacturers are responding positively to these new edicts.
Beware of the cheapest quote
Cheap isn't always best – It may be a 'fly by night company' selling a product with inferior components. This can equate to false economy in the long-term, as moving parts may need replacing sooner than you would expect. The materials used can also vary in quality and thickness. The use of aluminium is the go-to option for the slats that make-up the curtain, for its corrosion free qualities, however, be cautious if it is wafer-thin as this can dent easily. As a measure of reliability, the typical lifespan of a good roller door is 15 to 20 years.
Create a weather shield
Keeping the weather at bay is a key reason for replacing a leaking garage door if your old one is in a state of disrepair. Roller doors can be 80% sealed, with the best designs providing brush seals to almost completely close around the lintel area. Also, check for brush seals in the side guides to protect against driving rain. Likewise, with better quality you can feel reassured over how secure the curtain will be in high wind. Small details like 'wind locks' within the running guides keep the door stable but also increase burglar protection. Flexible rubber seals at the bottom of the curtain provide a rigid barrier to water ingress even where garage thresholds are uneven. These can also be reinforced with an internal steel strip to create a barrier to unwanted vermin. However, to get a complete seal which provides optimum protection against the elements, it is desirable to talk to a specialist about the most effective options.
Surface protection
Regular opening and closing leaves marks due to the intrinsic operation of a roller garage door. However, better models minimise these through innovative design of the rollers, belts, and side guides. Garage door surfaces are also protected from small scratches caused by soiling in that there is reduced contact between the individual layers of the door curtain, and less chance of dirt touching the surface of the door. The very best premium roller doors have straps that run in between the two surfaces to stop wear and grit accumulating, keeping the surface looking pristine for longer. When rolling up, several belts are placed between the individual layers of the door curtain, thus significantly reducing scratch marks caused by soiling.
Look for the best guarantees
As a minimum requirement, look for a 5 year+ guarantee on the motor drive. It will offer the highest quality, last longer, run quietly, and open and close in good time. Up to 10-year product warranties are available from high quality manufacturers. Yet, while most people in the garage door industry are honest, some of them are not. Inferior motors and lifting gear historically do give premature failures. So, be wary of guarantees which are not bonified. As previously mentioned, this can lead to 'false economy.' Cheap parts may have been installed causing hardware to fail, lead to another call out to get it fixed with exorbitant labour fees, and the installation of further low-quality products…and so the cycle goes on. Good practice would be to qualify what is covered in the guarantee and which brands are being sourced right from the start.
Accessories galore
The basic function of a roller garage door is to open vertically and provide maximum space inside and in front of the garage. The garage ceiling also remains free and can be used for lamps or as an additional storage space.
More of a surprise to people is the extra lifestyle functionality they can provide, especially with the high value brands. For example, you can stream daylight into you garage with synthetic glazing or improve the room climate with ventilation grilles made of long-lasting plastic to help prevent mould. What is more, with high-end manufactured doors, security is certified. When controlling your door with radio systems for example, interference free encryption is available akin to what you would experience from your online banking security. Better quality also equates to more convenience, with hand -held transmitters, or smart Apps on your phone enabling you to open, close and lock from your car or inside your home.
Don't accept an unsafe roller garage door
Well-constructed roller garage doors are also some of the safest and most secure. What is more, you do not have to break the bank to have one installed. Affordable options come with sensors to reliably stop the door in the event of an unexpected obstacle. They can also include emergency release pullies or crank handles operated from inside a garage, and for those garages without a second entrance, provide a secure release in a locked safety box on the outside. In addition, keyless designs make it difficult to break in with no discernible entry points or handles. Furthermore, anti-lift curtains and robustly made vertical roller guides prevent the door from being prised open. For slightly higher price brackets, emergency electricity supplies are also an option and can bridge network power failures.
To summarise, not all roller garage doors are made equal. Some of the very cheapest single-skin designs are flimsy with questionable structural integrity. They are much less secure than those you can buy from an established supplier of good repute. For every homeowner, it should be easy to make unimpaired, well-informed decisions. This is as true of garage doors as it is of any other high-value home-based purchase. But when it is a once in a lifetime event, the stakes can sometimes seem higher. Therefore, it is vital to trust the approval ratings of customer-endorsed suppliers. They can help you make choices that are right for you.
To learn more about the specific standards we expect from roller garage doors, simply call us today or use this useful contact form to book your free survey and quote.
7 Facts You Need To Know About Roller Garage Doors
Give your home the wow factor with an eye-catching colour choice. Just like landscaping and hardscaping your driveway, colour coordinating your garage door colours to your home can make a big first impression and set the right tone for creating curb appeal.
Along with design, reliability, and durability, colours are among the most important choices homeowners care about when updating their homes, and usually comes down to personal taste. Yet there are other practicalities to consider.
Here are five key factors:
Blend In With Local Architecture
Use your style of house and current colourways, e.g., of bricks, stone, window frames, front door, cladding, etc. as the starting point.
Choose one that complements your style of home and others close by. In doing so you can add aesthetic value, reinforce the quality of the property, and give a great first impression of your locality to visitors, and buyers.
Different house styles are defined by their architecture. And, increasingly, the wide mix of colours available are being associated with different property types, e.g., heritage colours which are designed to appeal to owners of period properties, often in soft shades of grey, green, blue, etc. None the less a more modern contrast can also work well say against a painted white or ivory stone wall or red brick, often seen with traditional, older properties. Conversely, heritage colours can also look good with contemporary properties.
So, whether a property is labelled old or modern, you can choose from conventional colours, neutrals or add a pop of colour to suit the theme of your home and the surrounding area.
The effect can still be bold, blend in, and yet still feel cohesive.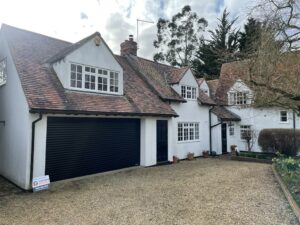 Co-ordinate Colour And Finish
Adding the right finish to the surface can provide further interest. Why not have fun blending style, colour, and finish. These can include a high-quality powder or foil coated look, textured finishes and timber, or woodgrain effects even down to the type of wood colouring such as Golden Oak, Rosewood or Nutwood, depending on door type. Natural timber doors are also available, with stain options.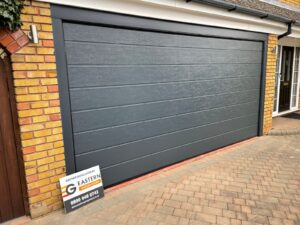 Balance Colour With Exterior Features
Another great tip is to consider the landscaping.
Gardens and the surrounding area can offer a convenient vista which can blend beautifully against the backdrop of your home with your garage door an essential ingredient in this.
Natural colours, like Dark Brown and Chartwell Green, for example, would combine seamlessly with a home surrounded by trees or a cottage garden. Standard colours such as black and white are also often used in contemporary settings. Whilst the vivid colours of plants look stunning against light neutral or pastel tones.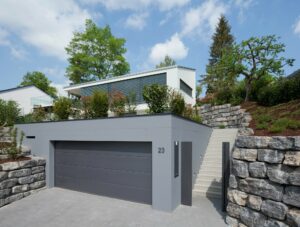 Should I Colour Match With My Front Door?
Though its often the case that surveyors and fitters are asked to match them up. As a general guideline, it all depends on the frontage, size of the property and colourways already in place. If your front door, has a strong, vibrant colour, opting for a subtle colour, such as white or light grey might be the best way to go.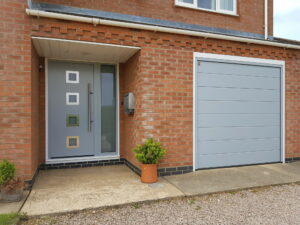 Garage Door Colours v Structure
When matching colours to features such as frame, cladding, or trim, there are no hard and fast rules to follow. Sometimes, it's a good idea to use a colour palette rather than colour matching to create a consistent overall look to your home. This is a useful tip as there can be tonal inconsistencies between house paint colours, metal based colours, and powder coating. However, to stand out from the crowd contrasting colours can also make essential building features jump out.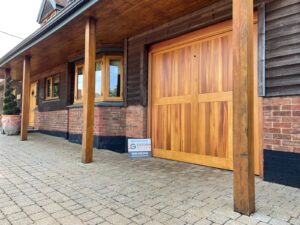 Making the right decision can have a transformative effect on your home. Should you be thinking about selling your property or are simply inspired to increase your garage door impact as a decorative element (on its own or as part of a larger improvement project), at Eastern Garage Doors, we have 30+ colours to choose from, together with additional tonal possibilities, all supported by the RAL colour system.
Bespoke options that increase the likelihood of an exact match to the shade you want, are also available depending on the manufacturer. 
One last tip! When you book a visit always ask a surveyor to bring some samples.  You'll be amazed at the colour options open to you.
Here is just a small selection:
Depicted colours are white, grey, yellow, quartz grey, anthracite grey, steel blue, fir green, flame red, oak and golden oak.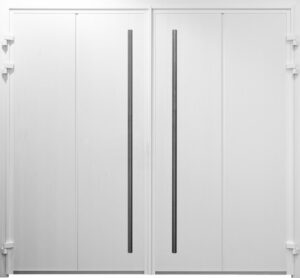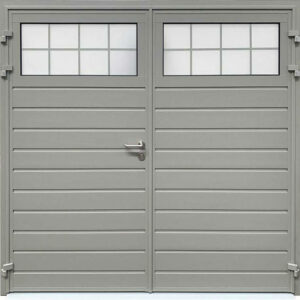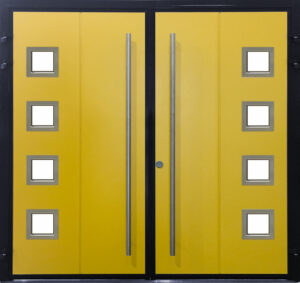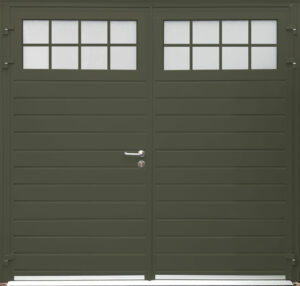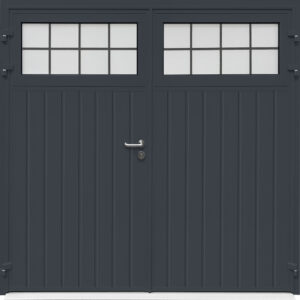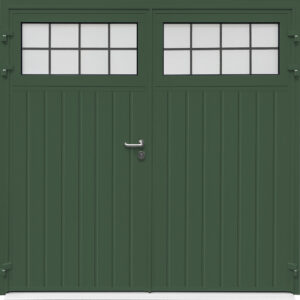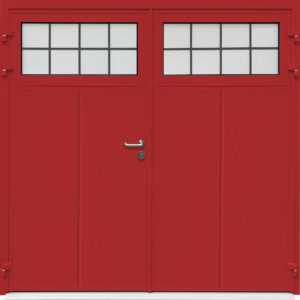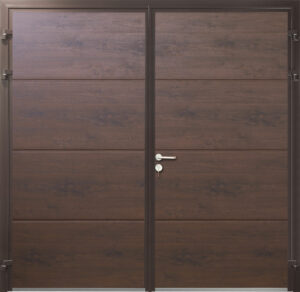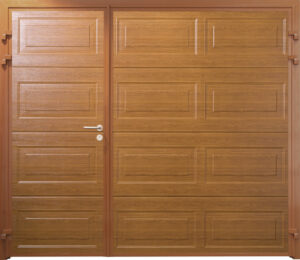 A Guide To Choosing Garage Door Colours
Although a straightforward question, knowing how much a garage door costs depends on size, finish, style, level of security and insulation, to name just some factors. Eastern Garage Doors looks at a variety of considerations and the impact they have on what you might pay. 
Size 
Whether a single car width or a double, i.e., can 2 cars fit in side by side, different weights and types of material contribute widely to cost. Double doors especially with heavier mechanisms to counterbalance the load when opening and closing illustrate this. An average single garage door size is 7' x 7', whilst double garage door sizes average 14' x 7'.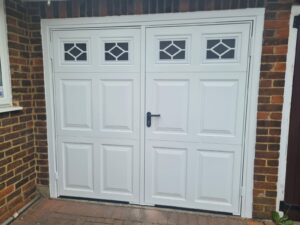 Aesthetics 
In terms of the finish, you might have a particular colour and texture in mind. Perhaps, you want it to match your front door or windows. Panel designs vary enormously from Georgian styles to traditional and modern. An abundance of colour choices is also available usually manufactured in RAL palette colours and wood effect finishes that match most needs. If you want a colour other than white, you may have to pay a bit more, though this isn't always the case with some manufacturers.
What level of security do you need?
Is your garage integral to your house? Do you keep valuable equipment or belongings inside? There are many security features that can help deter thieves, from doors that close and lock automatically, to the durability of panel structure and design, to different grades of locking mechanisms.
Does it need to be insulated?
These days heat loss is a major consideration especially with increasing heating bills and the care of the environment. If the garage space is used as a multi-functional room, such as a gym, home office, studio, utility room, storeroom it would be well worth considering an insulated sealed garage door. Materials, manufactured design, and door thickness all impact insulation levels. For the best protection you need to be asking:
What is it made of?
Is it double skinned?
Does it have thermal breaks?
And, how good are the seals?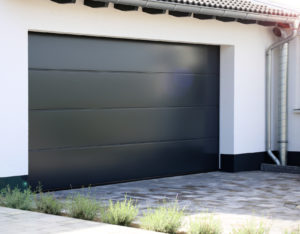 Will you want it rodent proof?
Especially if you keep foodstuffs in the garage you may want to restrict unwanted pests! You may consider a seal to seamlessly fill the gap between the bottom of the door and the ground.
Manual or automatic?
With the modern age of automation, most garage owners choose to go automatic. When looking to replace, it is important to select a renowned electronic system for reliability and hassle-free daily usage. This is because, the highest quality operators provide more safety features and less-stress on high-traffic garage entrances, lasting up to 30 years or more. While, on manual doors, spring balance mechanisms can vary in quality with the best value doors providing multiple anti-drop devices for added protection to stop the door crashing down.
Moreover, let's delve a little deeper in to electric garage doors. Simply stated, an electric operator, a key component of automation, affects what you might pay? Quality is paramount, as it will affect your user experience. The style of garage door, type, size, weight, and purpose influences what model you might need. Various factors can be impacted such as:
The pull and push force on the door
Opening speed
Low power consumption
Outage support
Connectivity
Type of operation and programming
Any installer worth their salt will advise on the best option to deliver optimum, trouble-free performance. Bear in mind also that existing garage doors can be retrofitted with operating mechanisms.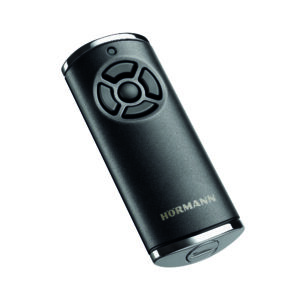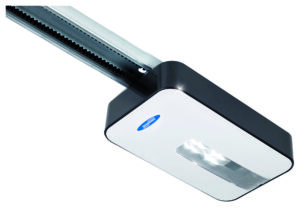 Renovation 
Does anything else need doing? If the structural integrity in and around your garage door is affected, additional work may be required to the surrounding frame, broken floor, fascias, or soffit boards?
Space
Do you need additional space? Are you struggling to get your car inside your garage? It's interesting how many cars just keep getting bigger every time a new model is launched. Some options for creating space include fitting the garage door behind the pillars or closer towards the front of the exterior building facade, fitting a roller door to the exterior, extending framework outwards from the brickwork, or converting two smaller garage entrances into one.
Installation
Do you want a company to fit the door for you and take away your old door? Or do you want to install it yourself? There could be delivery charges if you choose to fit it and there is an onus on you to get the sizes correct. Additionally, some manufactures recommend that their doors are installed by trained technicians.
Reliability
Tried and tested quality products do what they are supposed to do every day of the year, and whatever the weather, providing they are maintained. Always check out review sites such as Checkatrade and Trust Pilot to separate the unfailing from the unreliable.
The Design
Designs vary in the complexity of manufacture, meaning some are simpler to fit than others. Bespoke options which are made-to-measure to specific sizes, design, finish, colour, and functionality, can also impact cost. Take the operating motor unit, for example, on an automatic garage door. If energy saving is important to you, then greener options are synonymous with high-end operators which feature extremely low power consumption with fast opening. Some can also be powered via an optional solar module.
Here are the main designs commonly used in the UK and the main reasons for purchasing them:
Some Approximate Figures
The information below looks at these common types of garage doors and the price range you would expect to have to pay – depending on sizes, design, colour/finish, insulation/single skin and operation. Costs are supplied and fitted based on Eastern Garage Doors' experience over four decades of researching, supplying, and installing the most reliable makes on the market:
| | | |
| --- | --- | --- |
| DESIGN | SIZE | GUIDE PRICE FITTED |
| Up and over  | Single (Manual operation) | £800 – £1200 |
| | Double (Automatic) | £1,800 – £2600 |
| Sectional (Automatic) | Single | £1,400 – £2,900 |
|   | Double | £2,400 – £4,400 |
| Roller (Automatic) | Single | £1500 – £3000 |
|   | Double | £2300 – £3800 |
| Side hinged (Manual) | Single | £1,500 – £3500 |
So, as you can see there is no one size fits all! There is a lot more to investigating what you might need to pay for a garage door and the lifetime value it offers particularly when quality aspects are taken into account. The choices are not always that simple, which is why experts in the field normally like to discuss your requirement first before committing to a price.
In addition, there is a difference between price and value, i.e., value for money – Cheaper products don't always have the same warranties and are more prone to failure, so cheap isn't always the best and the best isn't always cheap! Its fair to say that the lifespan difference of a high-quality well-maintained garage door over a low-cost budget option can be as much as thirty-five years.
Starting out you may search for the cheapest garage door, find a few prices then be unsure, may have a few questions and feel the need for some guidance.
See some examples of guideline prices here.
If you would like some advice, contact one of our experts. They have the technical and product knowledge to help you make the right choices. You can rest assured we can give the best value for your investment with a reliable solution from a wealth of experience backed by very good customer feedback seen in our many reviews.
How much is a garage door?
It may seem simplistic to ask, 'What kind of garage door do I have?' But delve into the detail and the differences become much more definite. With 20 plus styles, different sizes, and 50 plus materials, across generally 5 types, understanding the choices you need to make before you buy is essential. Ask yourself: Is cost or quality your most important consideration? Or is quality the best way to reduce cost?  In other words, will a cheaper garage door provide false economy, or will paying more deliver greater peace of mind? The decisions you make about the type and style of door can affect this. We can advise!
Save money but at what price?
It's important to consider both function and form when choosing a garage door. Not only what the purpose of the garage is but also how secure and safe it needs to be. Product lifespan is also important along with structural integrity post installation. And yes, there are bargains to be had, but this won't necessarily be your lowest quote.
Here are some pointers:
Consider what you are going to use your garage for. If it is to store high value items, then a design tested garage door with a specified security certificate may be more important than one which is untested or lacking intruder alarms.
Also, material choices can have a considerable effect on longevity. For example, a heavy-duty galvanised steel door barrel will last longer than a lightweight steel or plastic door barrel and will come with a 10-year warranty instead of 1 year and won't need replacing earlier than expected. Take our roller doors for instance, there are a lot of options on the market with some designed to last up to 30 years.
Furthermore, look for a supplier who guarantees maintenance and includes yearly checks and repairs, along with multi-year manufacturer's warranties. We at Eastern Garage Doors provide these because we believe in delivering the best value for money as a measure of quality, without which assurances of reliability and product lifespan can fall apart.
Beware the cheap quote – Take for example, a single skin roller garage door, the most affordable of its kind, it can cost on average between £850 and £2000 depending on size and whether it's remote control or hand operated. For a double skinned, foam insulated, aluminium option you'd need to pay more, between £1150 and £2300. This is reasonably what you'd expect, so avoid cheaper options as the chances are you won't receive the highest standard of fitting and future issues often arise.
Faulty garage doors and the miss-selling of warranties have previously been highlighted on the BBCs Rogue Trader programme.
Our advice would also be to use Checkatrade and other review sites to highlight top performers when researching suppliers. You will see many where consistent professional engineering and technical know-how wins over low skilled labour and questionable quality.
Every garage door is safe. Isn't it?    
Safety is a key concern for many garage door buyers. The mantra needs to be one of lowest risk. Cheap garage doors are often not CE marked, not safety tested and don't meet the standards required by law. Moreover, look for built-in safety systems as standard and ask about what additional safety features are available to help mitigate risk, such as manual overrides on motorised units, anti-drop safety brakes, precision tracking and spring safety systems.
How many different types of garage door are there?
There are commonly five different types of garage door to consider. Although each one can be tailor-made to individualise the design and function according to lifestyle tastes.
Up and Over
Common amongst homeowners there are two types of up and over garage door:
Canopy gear – Made of one solid panel, with a pivoting mechanism that tilts the door to sit parallel and above the garage when open and forming a canopy of about ½ of the door when open
Retractable gear – Similarly, the up and over retractable gear lifts the garage door up to comfortably sit inside the garage roof fully retracting all of the door on tracks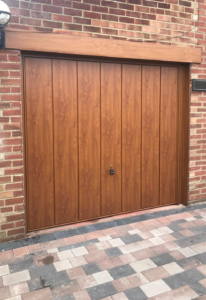 Roller
Roller garage doors fit perfectly in garages that have plenty of ceiling space and provide a smooth vertical opening to maximise space. They can be operated manually or automatically and provide reasonable security. Safety features such as manual override can be added to motorised options.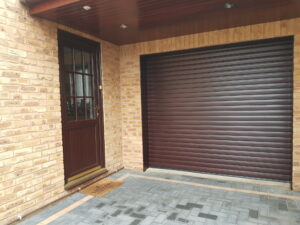 Slide to the Side
Commonly used as a space saver where there is very little headroom, or in larger garages, 'Slide to the side' or 'Round the corner' garage doors open, as the name suggests, by sliding along a side wall, either partially or to its full opening capacity.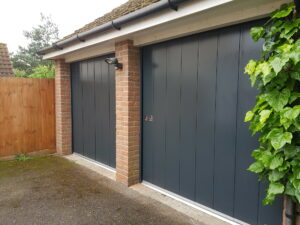 Side-Hinged
Also known as barn doors, side-hinged garage doors are designed with conventional hinges in the same style as a front door.  Available non insulated and insulated with draft sealing. They are useful for garage conversions into storage space or multipurpose rooms and can be configured with a central or asymmetric split. Manual and automatic options are available and polycarbonate or laminated safety glass windows can be added.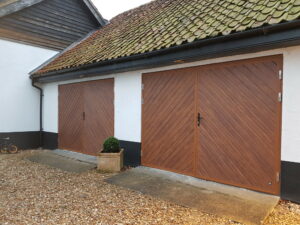 Sectional
Sectional garage doors are made from insulated panels which are sealed to stop heat escaping, useful for garage conversions into an additional room such as a gym or small office. Like roller garage doors they use a rolling mechanism to open and close, vertically at the click of a button – beneficial for short driveways where cars are parked close-up to the garage opening. Automatic remote control also means there is no external handle. These doors are very reliable and provide excellent security, with certified security features to make them extremely burglar-resistant.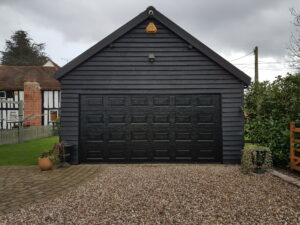 Sizes
Knowing the sizes of single and double garage doors along with the size of the floor area will help you make a measured choice. For some UK average sizes look at our handy guide. To ensure you have the right garage door for the size of garage we can talk you through your measurements.
What is my garage door made of?
Material choices for garage doors play a big role in the aesthetic appeal of your home along with the colour, pattern, framing and furniture. We provide all our garage doors made from low maintenance materials, including steel, aluminium, timber, uPVC, and GRP.
Our experienced team will work with you to select everything from the brand to the right gear options, colour, size and special features. We will then fit your garage doors for you, as approved technicians, and we offer annual servicing and maintenance to keep them operating at their best as well.