How much is a garage door?
Although this is a logical question, to know 'How much is a garage door?' depends on quite a few points, such as size, finish, style, level of security and insulation, to name just some of the factors…
Size 
Prices vary depending on size. Whether a single car width or a double, i.e., can 2 cars fit in side by side, different weights and types of material contribute widely to cost. Double doors especially with heavier mechanisms to counterbalance the load when opening and closing illustrate this. An average single garage door size is 7' x 7', whilst double garage door sizes average 16' x 7'.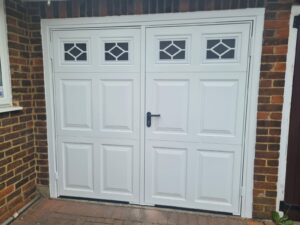 How much is a garage door to look good? 
In terms of the finish, you might have a particular colour and texture in mind? Perhaps, you want it to match your front door or windows? Panel designs vary enormously from Georgian styles to traditional and modern. An abundance of colour choices is also available usually manufactured in RAL palette colours and wood effect finishes that match most needs.
What level of security do you need?
Is your garage integral to your house? Do you keep valuable equipment or belongings inside? There are many security features that can help deter thieves, from doors that close and lock automatically, to panel structure and design, to different grades of locking mechanisms.
Does it need to be insulated?
These days heat loss is a major consideration especially with increasing heating bills and considering the environment. If the garage space is used as a multi-functional room, such as a gym, home office, studio, utility room, storeroom it would be well worth considering an insulated sealed garage door.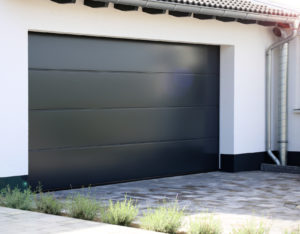 Will you want it rodent proof?
Especially if you keep foodstuffs in the garage you may want to restrict unwanted pests! You may consider a seal to seamlessly fill the gap between the bottom of the door and the ground.
Manual or automatic?
With the modern age of automation, a high majority of consumers choose to go automatic, it is important to select a renowned electronic system for reliability and hassle-free daily usage. Nonetheless, quality manual doors are also designed to operate easily due to their spring balance mechanism.
Renovation 
Does anything else need doing whilst you are changing the main door? If the structural integrity in and around your garage door is affected, additional work may be required to the surrounding frame, broken floor, facias, or soffit boards?
Space
Do you need additional space? Are you struggling to get your car inside your garage? It's interesting how many cars just keep getting bigger every time a new model is launched.
Installation
Do you want a company to fit the door for you and take away your old door? Or do you want to install it yourself? There could be delivery charges if you choose to fit it and there is an onus on you to get the sizes correct. Some manufactures recommend that their doors are installed by trained technicians.
Reliability
Tried and tested quality products do what they are supposed to do every day of the year, and whatever the weather, providing they are maintained. Check out review sites such as Checkatrade and Trust Pilot to separate the unfailing from the unreliable.
So, as you can see there is not one size fits all! There is a little bit more to what you might pay for a garage door when you start investigating. Like quite a few things, it's not always that simple, which is why experts in the field normally like to discuss your requirement first before committing to a price.
In addition, there is price and value, i.e., value for money – Cheaper products don't always have the same warranties and are more prone to failure, so cheap isn't always the best and the best isn't always cheap!
Starting out you may search for the cheapest garage door, find a few prices then be unsure, may have a few questions and feel the need for some guidance.
If you would like some advice and a guide price, contact one of our experts. They have the technical and product knowledge to help you make the right choices. Contact us for the best rates.