How Secure Are Your Garage Doors?
It doesn't matter if your garage is attached to your home or whether it's an entirely separate entity, it's of the utmost importance that all possible security measures are undertaken in order to shield your belongings and the rest of your home. It's vital that your garage is structurally sound, and your garage door is up to the task of operating as your first line of defence. Your current solution may appear adequate, but if the door is ten years or older, a thorough inspection is essential to access whether you need a new door or a repair.
These days, thieves are far savvier than ever before. And while you may think it difficult to break into a garage, these thieves can spot a vulnerability from a mile away, and doors which have not been professionally installed or those with dents and broken frames are prime targets for opportunistic thieves.
How Do Garage Doors Get Broken Into?
There are numerous ways in which a potential thief can gain access to your garage. Older garages are mostly targeted due to their obvious vulnerabilities. However, don't make the mistake of assuming that new garage doors are completely exempt from break-in attempts (although they are way more secure) it's still imperative to cover every possible angle.
Older doors normally have only one lock and thieves have been known to drill through them or cut them out altogether – fortunately, advances on newer doors means that this is far more difficult.
The gap where the top portion of the door meets the frame is also a common area of susceptibility. Newer doors are fitted with a bar which protects the area behind the gap, where a crowbar would be all that's needed to operate the locking system to gain hassle, and noise-free entry.
Roller and sectional garage doors have more protection than most other types of door simply because of their design. One of the only ways to break into a garage with a roller or sectional door is to cut through it, which would obviously be hard-work and very noisy. This is why opportunists are unlikely to target these kinds of garages, so long as they are in good working condition.
Some criminals have been known to use power tools to cut through the panel with the promise of a pay-day on the other side. It is an extreme example, but they'll always be someone looking to take advantage if you've let it be known what you there's something particularly valuable within the garage.
Security Features
Ageing garage doors pose a severe security risk to your valuables and your home in general, which is why garage doors are now built with security at the forefront. At Eastern Garage Doors, we have been providing high-quality garage doors in various styles, colours and designs for many years now. We use only tested manufacturers, who have been making, testing and improving garage door security for decades.
Over the years, as methods of garage door break-ins have been reported, our garage doors have evolved significantly to stay in-step with emerging trends.
You'll find the following security features on any new manual garage door purchased from a reputable dealer:
Two locks – one of each side of the door.
The ability to upgrade with two additional locks.
Strong bars which prevent the locks from being compromised from the outside.
A strong anti-snap primary lock, which prevents access even if drilled or snapped.
Automatic garage doors have exceedingly secure locking systems which are powered by the door's motor, which continually keeps the door pushed down until it receives a signal from the remote to open.
Additional Security Measures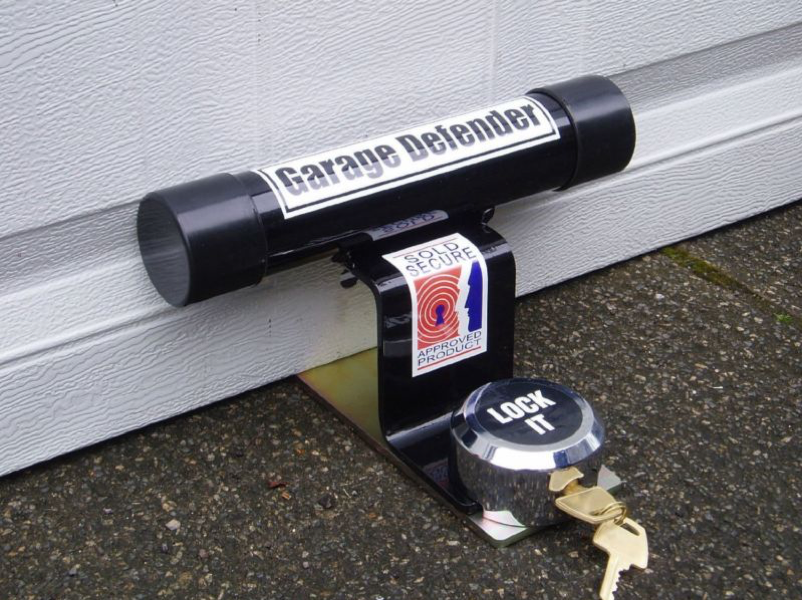 Garage Door Defenders – For up-and-over garage doors, a garage door defender is an excellent way to provide substantial, durable and visible security. These are becoming more popular. However, they should be anchored into the ground securely for them to work effectively.
It prevents intruders by halting the outward swing of the door when someone tries to gain access, which means that, even if someone breaks the lock, the door will remain closed. Garage door defenders work in the same way as a steering lock on a vehicle.
When you buy a garage door defender, ensure it can be fixed effectively into the substrate outside the garage door – whether that be concrete, paving or tarmac.
The defender should be fitted just in front of the centre of the door. If you have a double garage door, you may need more than one defender.
Solid Timber Garage Doors – If you are concerned about increasing criminal activity in your area, or there's an increase in steel garage doors being cut open, then a timber garage door may present the security upgrade you're looking for.
Motion Lights & CCTV – Garages attached to the main home are the most prevalent, and can be seen on houses up and down the country. If this is the case, then security does need to be a priority as anyone that gains entry to your garage is literally only a door away from yourself, your family and your belongings.
Motion sensor lights and CCTV systems, are a very effective deterrent, particularly to opportunistic thieves and are ideal whether your garage is attached to your home or not.
Alarm Systems – Big advancements have been made with alarm systems over the past few years, and most new kits are wireless, so it's ideal even if your garage is set a little way from the house. Dummy alarm boxes are commonplace in packs now, so you can affix these to your garage building, which essentially informs potential burglars that an alarm system secures the home.
In most cases, the best security solutions for home and garage will differ from person-to-person, as no two home are exactly alike. If you have any questions about security or any of our other products, then contact us today.
For a free, no obligation survey give us a call on 0800 048 0741, and our team will be happy to advise you on which security considerations would be right for your home and garage.