Garage Door Trends Over Time: A Brief History
Garage doors have become an integral part of the modern home. While at one time considered to represent somewhat of a luxury, these fascinating devices are now seen within millions of properties throughout the United Kingdom. Not only can these doors address some of the most important classic car maintenance requirements, but they are also capable of adding a stylish touch to any home.
How have garage doors and their associated mechanisms changed over time? Let us take a quick look at why technology and innovation have both played important roles in order to appreciate the big picture.
Traditional Car Enthusiast Tips from the Very Beginning
The earliest garage doors were actually attached to separate structures known as "carriage houses". Similar to barns and storage facilities, most carriage houses were equipped with doors that swung outwards. This was inconvenient due to the fact that they would require a great deal of space. Also, there were always chances that the vehicle could accidentally come in contact with the doors themselves.
Simple and Yet Powerful Solutions
It was not until 1921 that an upward-swinging mechanism was introduced to the general public. It did not take long before this model was often included within many car enthusiast tips, and for good reason. The most obvious advantage of this design was that it saved a great deal of space when compared to previous versions.

However, another issue presented itself. Some garage doors were extremely ornate and therefore, rather heavy. This made them very difficult to raise and lower. One solution which is still seen on occasion involved the introduction of sliding doors. It was much easier to open and close these models. The only issue was that the dimensions of the garage itself needed to be wider in order to accommodate the sliding mechanism. This would obviously be challenging for those who wished to undertake classic car maintenance within a limited amount of space.
The Introduction of the Electric Overhead Door
Garage doors equipped with electrical motors were first introduced in the first half of the 1970s. The main advantage here was that the doors no longer required manual labour to be opened and closed. Initially a luxury, the 1980s witnessed the mainstream introduction of remotely operated units, so the doors could be activated with the click of a button. These also reflected the fact that the cars themselves were changing over time. Just as vehicles began to use modern solutions, it only stood to reason that car enthusiast tips involved mechanised doors.

We now live in an era associated with composite doors, superior levels of insulation and even affordable, smart systems that are able to detect the presence of a vehicle as it enters the driveway. So, it is clear to see that we have come a long way in less than a century. This is why professional car enthusiast tips should always address the presence of a reliable garage door. If you would like to learn more about the services offered at Eastern Garage Doors, please contact us directly.
Garage Door Trends Over Time: A Brief History
It doesn't matter if your garage is attached to your home or whether it's an entirely separate entity, it's of the utmost importance that all possible security measures are undertaken in order to shield your belongings and the rest of your home. It's vital that your garage is structurally sound, and your garage door is up to the task of operating as your first line of defence. Your current solution may appear adequate, but if the door is ten years or older, a thorough inspection is essential to access whether you need a new door or a repair.
These days, thieves are far savvier than ever before. And while you may think it difficult to break into a garage, these thieves can spot a vulnerability from a mile away, and doors which have not been professionally installed or those with dents and broken frames are prime targets for opportunistic thieves.
How Do Garage Doors Get Broken Into?
There are numerous ways in which a potential thief can gain access to your garage. Older garages are mostly targeted due to their obvious vulnerabilities. However, don't make the mistake of assuming that new garage doors are completely exempt from break-in attempts (although they are way more secure) it's still imperative to cover every possible angle.
Older doors normally have only one lock and thieves have been known to drill through them or cut them out altogether – fortunately, advances on newer doors means that this is far more difficult.
The gap where the top portion of the door meets the frame is also a common area of susceptibility. Newer doors are fitted with a bar which protects the area behind the gap, where a crowbar would be all that's needed to operate the locking system to gain hassle, and noise-free entry.
Roller and sectional garage doors have more protection than most other types of door simply because of their design. One of the only ways to break into a garage with a roller or sectional door is to cut through it, which would obviously be hard-work and very noisy. This is why opportunists are unlikely to target these kinds of garages, so long as they are in good working condition.
Some criminals have been known to use power tools to cut through the panel with the promise of a pay-day on the other side. It is an extreme example, but they'll always be someone looking to take advantage if you've let it be known what you there's something particularly valuable within the garage.
Security Features
Ageing garage doors pose a severe security risk to your valuables and your home in general, which is why garage doors are now built with security at the forefront. At Eastern Garage Doors, we have been providing high-quality garage doors in various styles, colours and designs for many years now. We use only tested manufacturers, who have been making, testing and improving garage door security for decades.
Over the years, as methods of garage door break-ins have been reported, our garage doors have evolved significantly to stay in-step with emerging trends.
You'll find the following security features on any new manual garage door purchased from a reputable dealer:
Two locks – one of each side of the door.
The ability to upgrade with two additional locks.
Strong bars which prevent the locks from being compromised from the outside.
A strong anti-snap primary lock, which prevents access even if drilled or snapped.
Automatic garage doors have exceedingly secure locking systems which are powered by the door's motor, which continually keeps the door pushed down until it receives a signal from the remote to open.
Additional Security Measures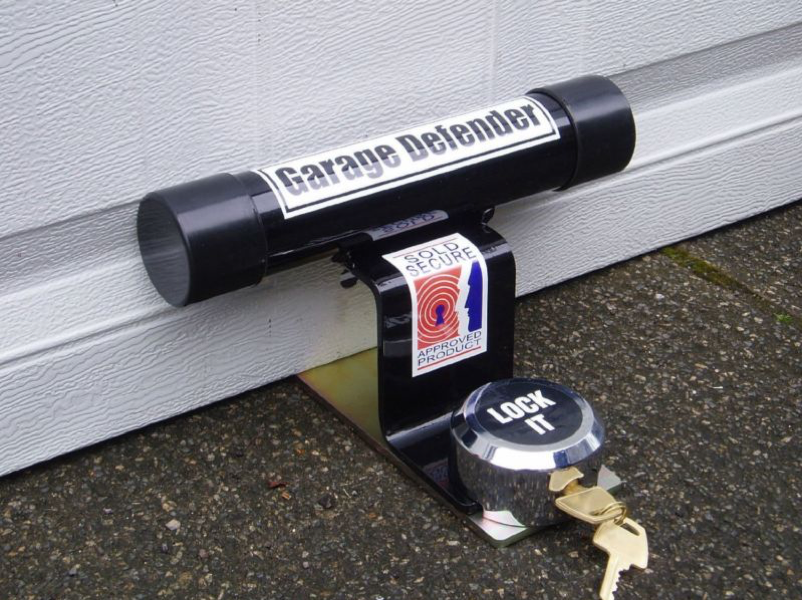 Garage Door Defenders – For up-and-over garage doors, a garage door defender is an excellent way to provide substantial, durable and visible security. These are becoming more popular. However, they should be anchored into the ground securely for them to work effectively.
It prevents intruders by halting the outward swing of the door when someone tries to gain access, which means that, even if someone breaks the lock, the door will remain closed. Garage door defenders work in the same way as a steering lock on a vehicle.
When you buy a garage door defender, ensure it can be fixed effectively into the substrate outside the garage door – whether that be concrete, paving or tarmac.
The defender should be fitted just in front of the centre of the door. If you have a double garage door, you may need more than one defender.
Solid Timber Garage Doors – If you are concerned about increasing criminal activity in your area, or there's an increase in steel garage doors being cut open, then a timber garage door may present the security upgrade you're looking for.
Motion Lights & CCTV – Garages attached to the main home are the most prevalent, and can be seen on houses up and down the country. If this is the case, then security does need to be a priority as anyone that gains entry to your garage is literally only a door away from yourself, your family and your belongings.
Motion sensor lights and CCTV systems, are a very effective deterrent, particularly to opportunistic thieves and are ideal whether your garage is attached to your home or not.
Alarm Systems – Big advancements have been made with alarm systems over the past few years, and most new kits are wireless, so it's ideal even if your garage is set a little way from the house. Dummy alarm boxes are commonplace in packs now, so you can affix these to your garage building, which essentially informs potential burglars that an alarm system secures the home.
In most cases, the best security solutions for home and garage will differ from person-to-person, as no two home are exactly alike. If you have any questions about security or any of our other products, then contact us today.
For a free, no obligation survey give us a call on 0800 048 0741, and our team will be happy to advise you on which security considerations would be right for your home and garage.
How Secure Are Your Garage Doors?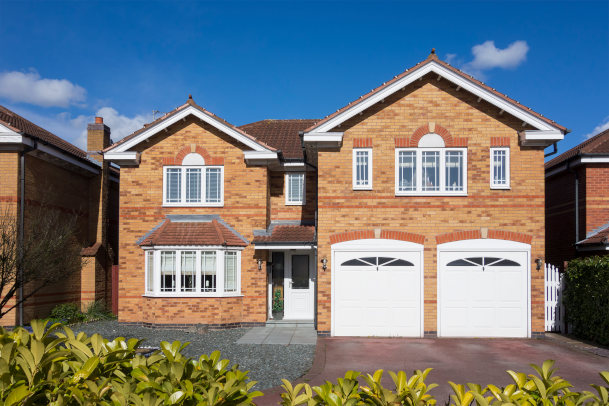 Wondered about how you can increase the value of your home without too much hassle? This month Eastern Garage Doors are here to share with you exactly how you can do just that. Increase your home's energy efficiency, security and kerb appeal by following our expert advice.
How Can I Help Improve the Value & Saleability of My Home?
A fresh, secure and updated property is certainly a great way to increase your home's value and appeal. The last thing people look for in a home is broken, insecure and unfinished fittings or facilities.
It's well known that a fresh lick of paint and a quick clean can really make the difference to the overall look of your home, but leaving larger jobs such as repairing broken paving slabs, old inefficient windows and dilapidated doors can be a red flag to buyers and a green flag for break ins. Improve your home with a perfectly fitted new garage door; not only will it make the face of your home look uniform but it will offer you maximum security and increase your home's value. For further benefits, please read on.
Energy Efficiency

A home that is energy efficient is a very attractive investment. Having a brand new garage door can help to insulate your home better and therefore reduce the need to turn on your heating. Not only is this good news for your bills at the end of the month but also better for the planet. A modern garage door is built to keep your home warmer and securer.
Security & Safety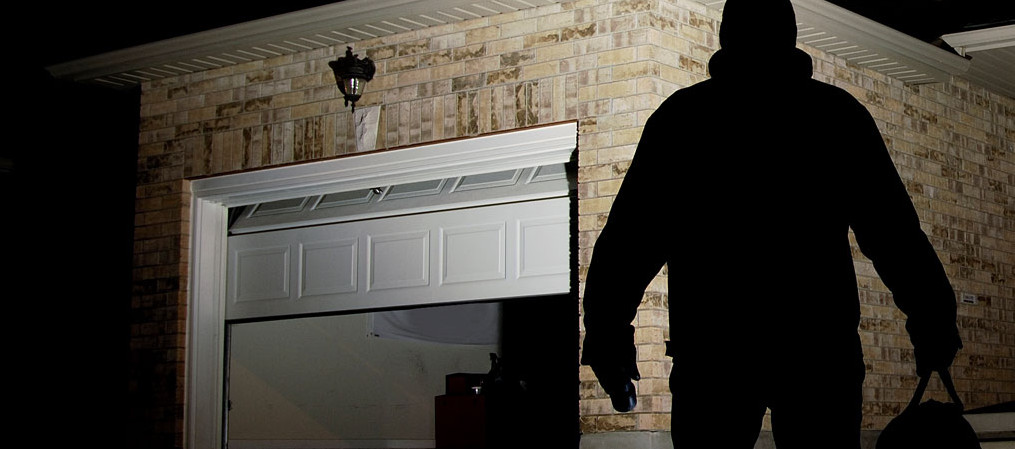 A garage is a massive bonus to anyone buying a home and if you have one yourself, then you will be aware of the benefits. Many of us store our tools, furniture and even vehicles in there, so it's basically a free storage facility. If you were to hire a storage unit the first thing you would want to ensure is the security and safety before leaving your belongings there, so why would your home be any different?
To ensure you have a good garage door that protects your home and belongings, as well as something that provides a deterrent to criminals, you will want to invest in a modern garage door. As we all know, technology has advanced massively in the last few years, so as you can imagine newer garage doors are more secure than older versions because they have new seals, security locks and measures put in place to keep you and your possessions safe.
Kerb Appeal & First Impressions
Regardless of whether you're trying to sell or simply enjoy the home you live in, the overall appearance of your home can affect its first impression and even your own morale. It goes without saying that kerb appeal is a must when attracting new buyers as it reinforces the quality of your property. Most garages are situated at the front of a house and therefore, it's one of the first things the eye will be drawn to. To increase your visual appeal, a clean and attractive garage door, and front door for that matter, has the ability to make a great first impression and encourage buyers to pay more for it.
When installing a new garage door, it might also be worthwhile to invest in a new front door; this is a great way to update and secure your property. If you would like to know more about the selection of both garage doors and front doors we have to offer, please get in contact with our friendly team today. 
Can a New Garage Door Add Value to Your Home?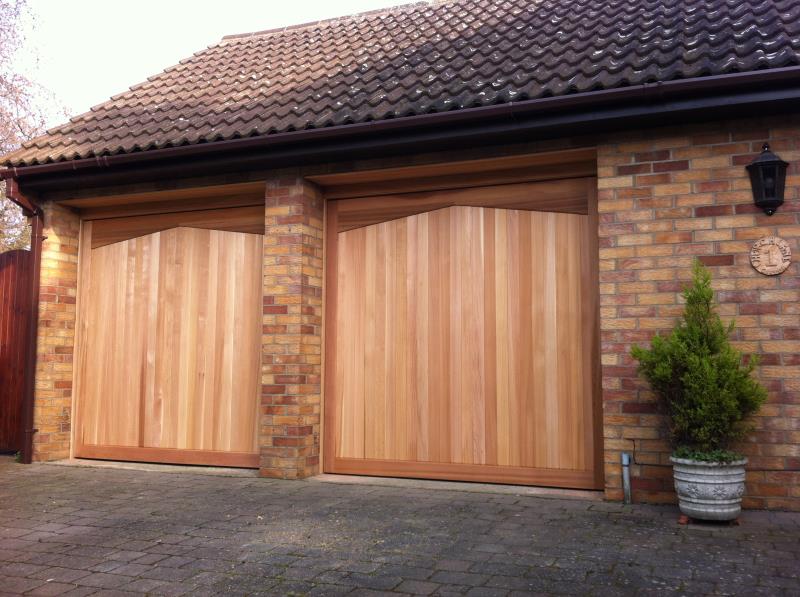 Wooden garage doors really are aesthetically pleasing, and here at Eastern Garage Doors we're happy to advise you on the best ways to maintain them, as it is relatively simple. Like everything doors must also be maintained, and this month we're here to share our top tips to ensure your wooden doors stay looking great for longer.
Keep Your Door Clean
Using a cloth with hot water and soap will do the trick on both the front and back of your wooden garage door. This will remove any dust or dirt that can make the wood look dull and worn, spruce it up with a quick wipe down. By cleaning your door, re-staining the wood will become a less regular task.
Lubrication
Every other month you will want to check the mechanisms on the door, to ensure that they're adequately oiled. You will know when your doors need oiling also because they will become stiff and usually make a screeching noise when you open or close them. It's also important not to over-oil as this can attract the dirt and can affect the performance of the mechanisms.
Re-Sand & Refinish
Re-sanding only needs to be done every 3-5 years, this is a way to get your doors looking just like the first day that they were installed. Enhance its beauty once again, specifically after harsh seasons of beaming sun to heavy snow.
Repaint or Re-Stain
Before doing this job, it requires doing all of the above first to ensure you have a smooth finish.
Repainting or re-staining your wooden garage door will keep it looking fabulous and will shield it from damage. There is nothing wrong with doing this regularly, however if you clean it on a regular basis, this process need not be a scheduled task. Repainting or re-staining can be done every year, or every 2-3 years.
When you do repaint your wooden garage doors you will want to remove any dust, dirt or peeling paint

Apply a wood filler to any cracks or blemishes and leave to dry

Sand down the door

You will then want to degrease the door with a special cleaning spray and touch up areas of mildew, with a mildew cleaning solution

Raise the door and let it dry

Use masking tape to cover handles, walls surrounding the door, windows etc…

Apply wood primer to the whole of the door and allow to dry

Apply the paint and overlap the strokes for an even finish




(You may want to apply a few light coats for the best coverage.)
Maintain Regularly
Keep the longer tasks to a minimum when you maintain your wooden garage door regularly. If you see any mildew starting to grow, give it a quick spray and a wipe. If you see that there's dirt lingering around the mechanisms wipe this away too, and reapply the oil. Check all parts of the door to see that they're in full working order.
Should your garage door not open or close, or tracking alignment/mechanisms aren't quite right or you notice extensive repairs that you need help with, then consult a professional.
At Eastern Garage Doors our highly skilled and extensively experienced team are there to provide a friendly and honest service to each and every customer. Which is why we offer no obligation surveys and 10 year quality guarantee on all door surfaces.
If you're worried about the maintenance of your garage doors or have come across heavy wear and tear – find your local EGD team and an expert will be right with you. Also if you wish to book any other services such as installation, please don't hesitate, get in touch today!