How to Choose the Perfect Front Door for Your Home
What elements serve to define the exterior "personality" of your home? While window dressings and wall colours will often come to mind, we need to remember that a bespoke front door will leave a lasting impression. This is why many property owners are straying away from generic designs in favour of the bespoke options offered through Eastern Garage Doors.
While there is no doubt that we have become famous over the past 30 years for our line of garage entrances, it is just as important to mention that we are also front door specialists. What are some of the services which we can provide?
Uniquely Designed Front Doors
Whether you wish to embrace a contemporary appeal or you are more interested in matching the traditional decor of your home, look no further than Easter Garage Doors. One of the reasons why we are capable of offering such a kaleidoscope of options involves the fact that we work with numerous well-respected manufacturers including:
Famous for their numerous security features Hormann front doors are excellent options if you have been looking for a superior means to protect the contents of your home. Options include nine-point locking systems and highly resistant materials that adhere to RC4 security standards. However, we should also mention that Hormann has devoted just as much attention to the styles of the doors themselves. You can choose from a wide array of colours, sizes and designs.

Silvelox has likewise earned a second-to-none reputation for their numerous high-quality front door designs. If you have been less than satisfied with "cookie-cutter" options, the chances are high that you will love what is in store when examining our Slivelox line. Much like Hormann models, these units can also be employed to match any front garage doors that may already be present.

Composite front doors have also become extremely popular options due to their durability as well as their cost-effective designs. Eastern Garage Doors is therefore pleased to supply a selection of Apeer Doors alongside numerous styles, hardware and design options will help to satisfy even the most demanding of requirements.
Five Year Warranty on Front Doors
Whether referring to our line of garage doors or front doors, we are fully confident in our selection of products. This is why Eastern Garage Doors offers a full five-year warranty on all products as well as a ten-year guarantee on door surfaces. It is therefore clear to see why we are your go-to source when nothing but the best for your home will suffice.

If you'd like to schedule a no-obligation on-site consultation in order to better understand your options, please take a few moments to contact us when the time is right.
How to Choose the Perfect Front Door for Your Home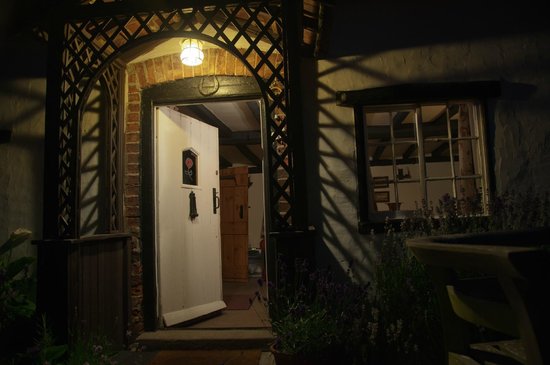 In this month's article with Eastern Garage Doors, we will be advising homeowners on how to appropriately secure their front door. By taking steps to ensure your home is safe, you could help reduce the crime rate in your area. We're here to help you feel safe, and give you tips on how to provide your home with effective security measures.
Our company is based in Norfolk and in previous years the area has had somewhat high burglary rates. However, with more people securing their homes, the area has witnessed a steady decline in crime. No one should have to be a victim of crime and so it's important to put precautions in place to help reduce burglaries or possibly eliminating them altogether. Our aim is to make top security common knowledge, to ensure other locations like ours benefit as a community and individually. Feel safe and live in a community where everyone thrives from low crime rates and make your area a desirable place to live – simply by making your homes locked and secure!
Have The Right Door 
Having a hollow door could be a huge problem for your home. Burglars can easily kick down a hollow door, not to mention if a storm were to occur whilst you're away and your door is affected, this is a welcome sign for intruders. All exterior doors on your home should be made of a solid reinforced material. Make a choice between fiberglass and solid wood/core; metal is commonly used in industries.
Exterior Doors With Windows Should Be Replaced With Windowless Doors

It may not seem obvious, but whilst windows on exterior doors can be pleasing to the eye and allow lots of light into the room, they can make easy access for break ins. Burglars simply smash the window and unlock the door from the other side. For utmost security in high crime areas you may want replace your door's windows with something solid.
Use The Locks On Your Doors 
The majority of external doors should be secured with a deadbolt lock built into the door handle. Ensure it's of a high quality, either grade one or two will do the job.
Peep Holes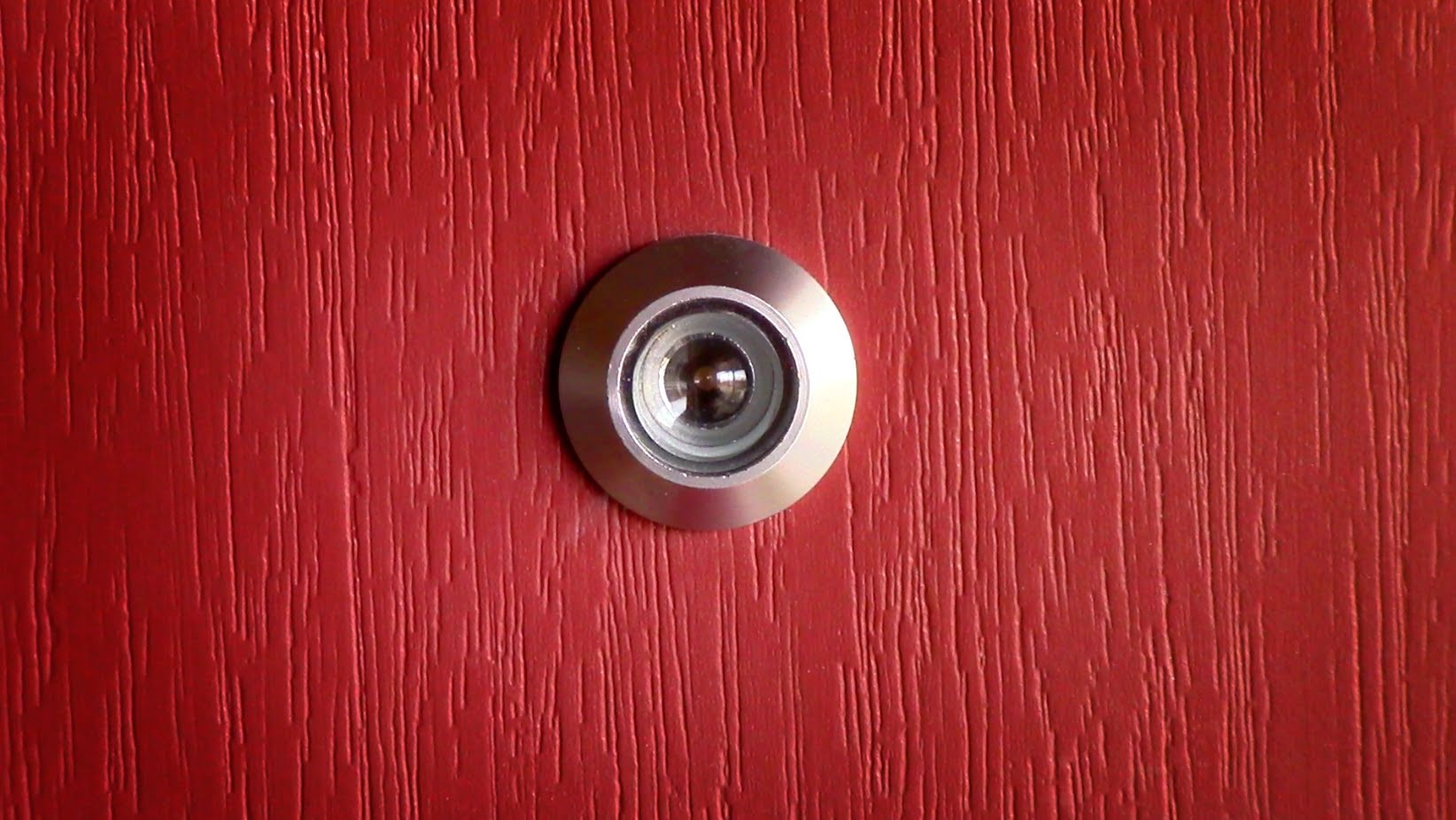 Give you the privacy you need in your own home. These viewers are great for everyone, especially the elderly. They give you upper hand to decide whether or not you want to admit visitors – not to mention it gives you time to call the police if you're worried by anything going on outside your door.
Hinges 
Do not expose them, have them on the inside of the door. The hinges should either be kept together with 3 inch screws or non-removable pins.
Cylinder Guards 
Prevent your lock being wrenched off. It is not unknown for burglars to remove lock cylinders; to avoid this, you can use cylinder guards that'll protect your lock. Most locks will already have this, but if yours doesn't you may want to install one.
Sliding Doors 
Fix keyed locks at both the top and bottom of your door, you can also have them reinforced with polycarbonate panels.
Extra Tips
Use cameras – you never know, you may catch your burglars before they spring into action. They could be lingering around to scope out their next house. Also, CCTV can catch them in the act meaning that if you do unfortunately get burgled, then the footage might help to track them down and you might get your belongings back.
Do not leave keys in an unlocked garage or under mats – this has to be the oldest trick in the book, we've all done it at one point and it's quite possibly the first thing a burglar will check. Don't leave keys around – when there's little risk involved, burglars will be more likely to take the chance so ensure you prevent easy access.
Talk to experts – get an honest, professional locksmith's opinion and feel safe in your own home.
No one wants to be burgled or live in a high crime area, so do yourself a favour and see to it that your front door is fully secure! Reducing the crime in your town could make for a more affluent area.
Eastern Garage Doors work across Norfolk, Cambridgeshire, East of England and  North London areas. Our experienced team always provide exemplary installation of an extremely high quality, and ensure our customers receive a flawless service. If you're worried about the security of your front doors and are on the lookout for replacements, get in contact with friendly member of our Eastern Garage Doors team; we will provide you with a secure, stress-free door.
8 Ways to Make Your Front Door More Secure
The front of your home should be approachable and inviting, sending a clear message of welcome to any visitors. Doors are the pathway into somebody's home and while we have a fairly straightforward idea of what a front door should look like, globally there is a plethora of beauty and history to be found in these simple features. From rainbow colours to ornate decorations, expand your horizons take a look at some of the most interesting front doors from around the world.
Chefchaouen, Morocco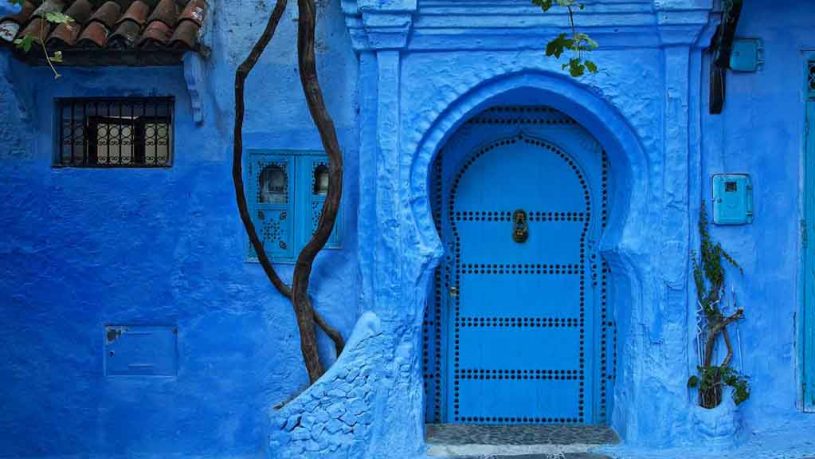 These bright doors are located in the visually striking Moroccan city of Chefchaouen, a place painted entirely in a variety of blue hues. It is widely believed that Jewish refugees who settled in this city in the 1930s were responsible for the striking colouring, blue being the colour of divinity in Judaism.  
Toda Huts, India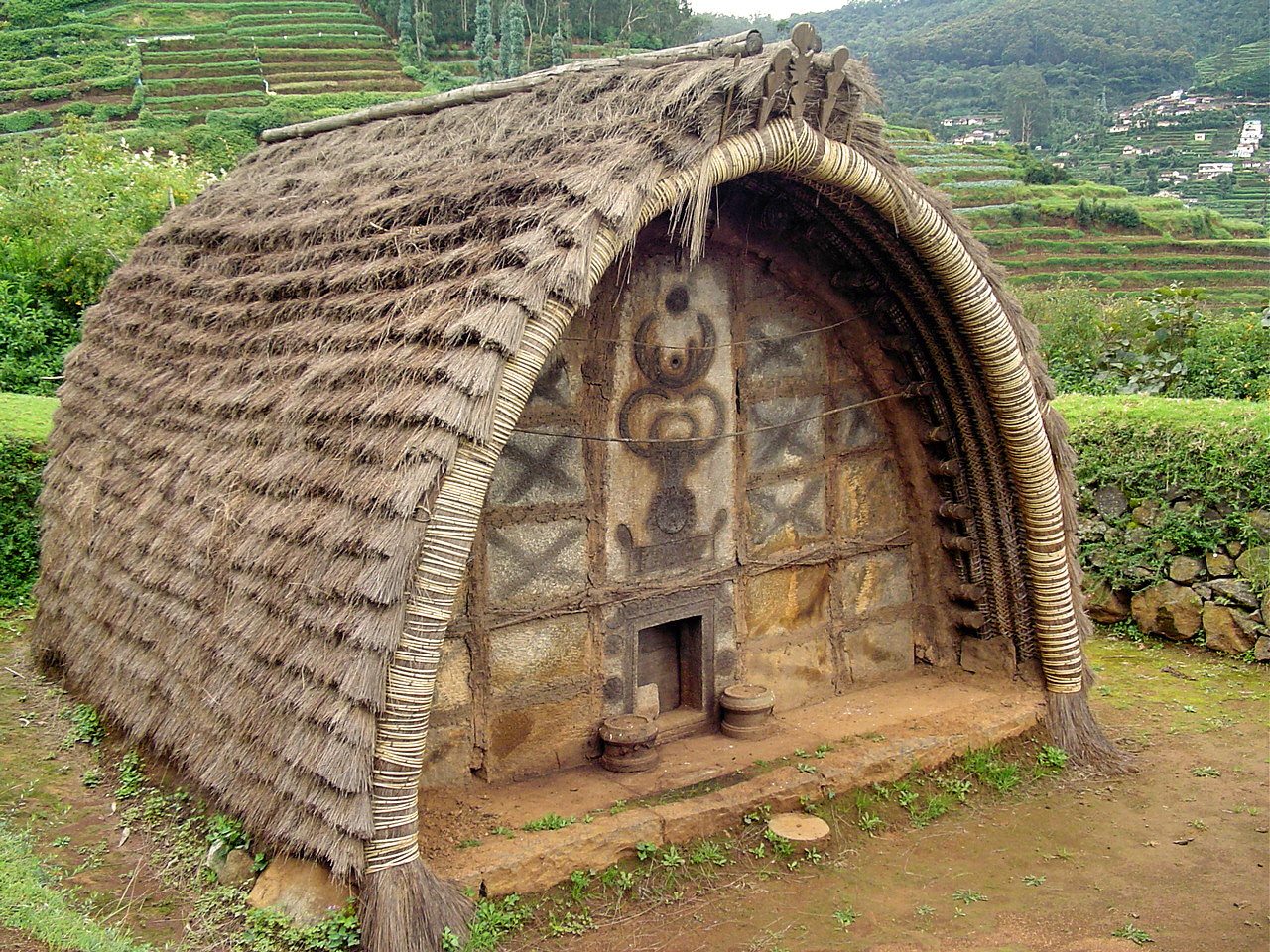 These houses in Southern India are certainly memorable, and are home to the Toda people who build these huts, or dogies, from bamboo. What makes these abodes so exceptional is the size of the entrance which measures roughly 3 feet wide and 3 feet in length. Whilst this is perfect for children, adults are forced to crouch or crawl to get inside.
Sweden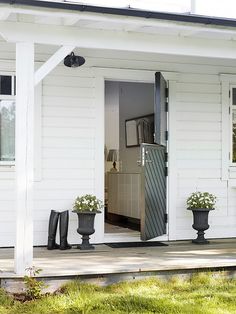 This may appear to be an average looking door, but it has a secret; it opens outwards. Unlike most of the world, the majority of Swedish doors swing outwards to sweep snow away from the doorway and prevent it from falling into the house.
Madeira, Portugal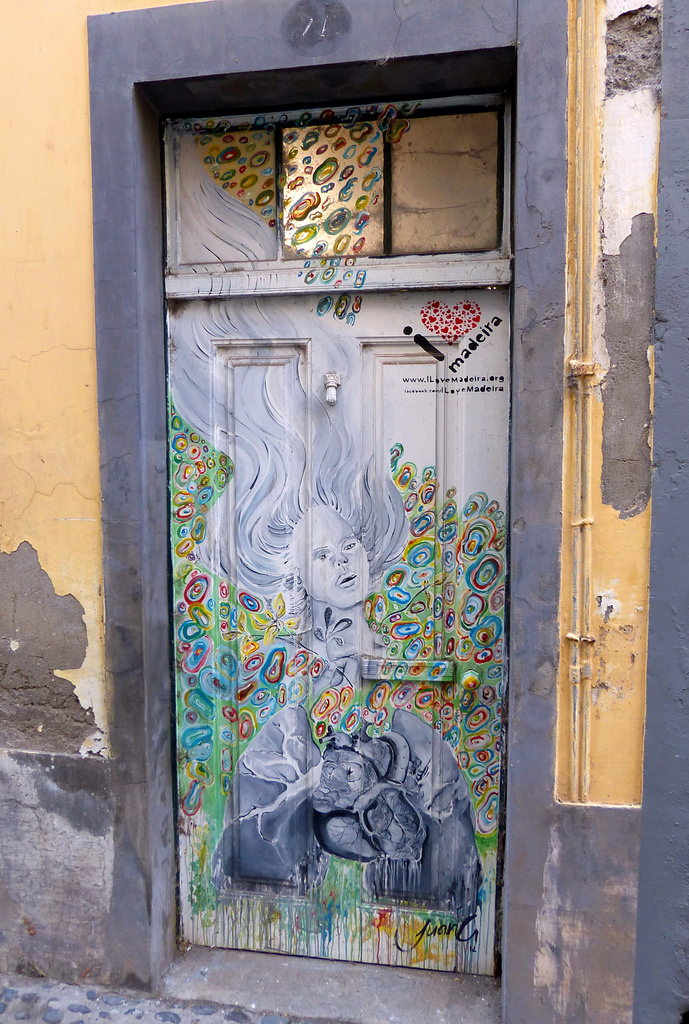 In the Portuguese city of Madeira, local artists have reached for their paintbrushes and transformed the front doors of abandoned abodes into colourful designs, creating an open-air art gallery for tourists to enjoy. The impressive "Art of the Open Doors" project can be viewed in the Funchal neighbourhood.

Burano, Italy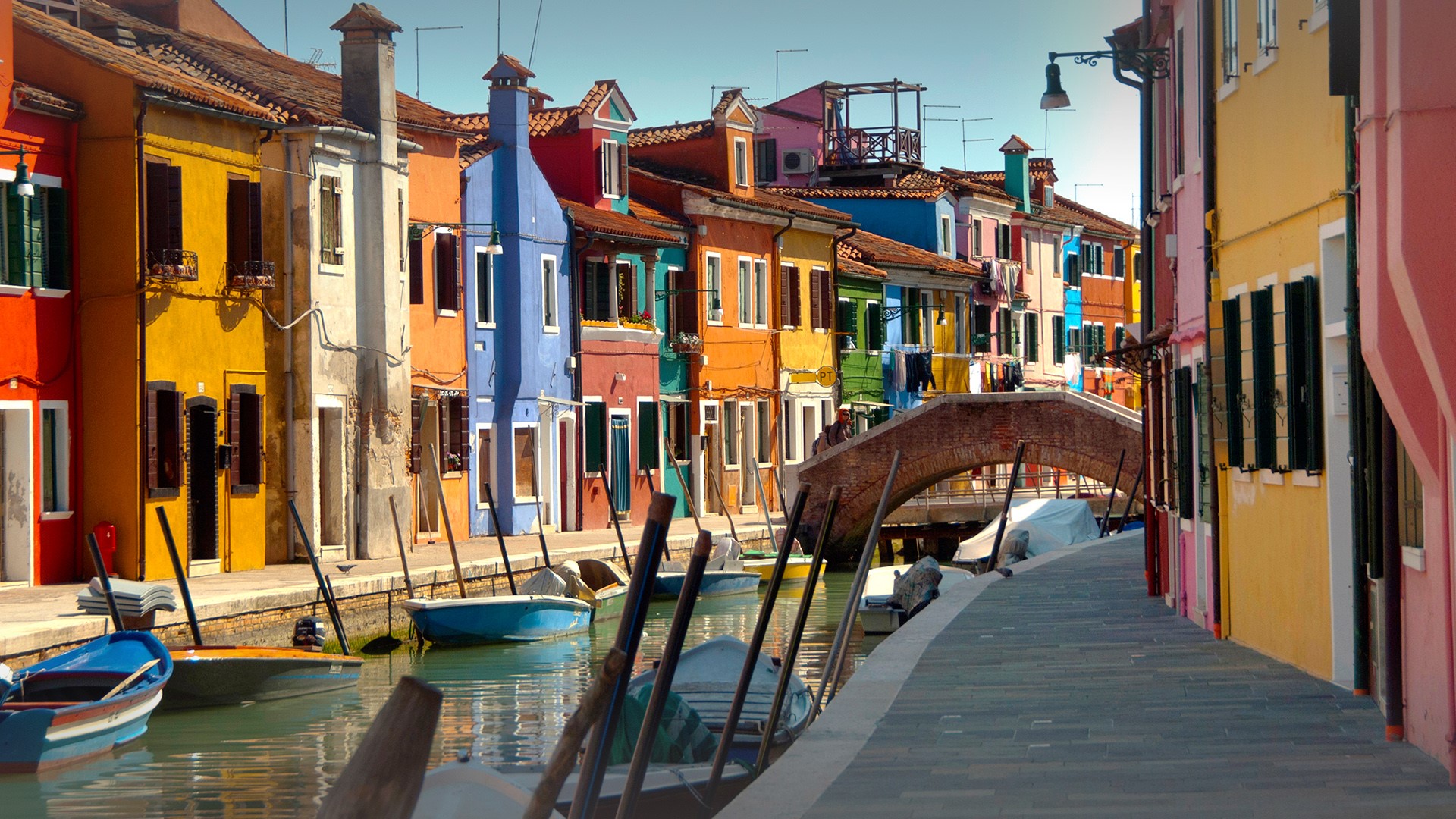 This explosively colourful island lies in the Venetian lagoon, and its patchwork of rainbow houses has made this little town famous around the world. So keen are the residents to maintain their unique look, that if you wish to paint your home, you must first ask for permission from the government who will send you a list of approved colours.
Here at Eastern Garage Doors, we understand the need for your home to make a great first impression. We provide our professional garage supply and installation services across the entire East of England, offering a huge variety of materials and styles to suit any home. For more information or advice, then please don't hesitate to contact our friendly team who are always happy to help.