Average Garage and Garage Doors Sizes in the UK
Whether you are looking to replace your existing garage door, or fancy an upgrade, it can be helpful to know the average sizes of single and double garage doors here in the UK, along with the average size of the garages they are attached to. Take a look at our handy guide below to find out more about these average sizes, so you can maximise the potential of your garage space.
Average Single Garage Door Size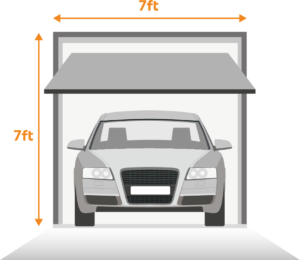 The above measurements for a single garage door are typical of a standard garage door size UK. It's worth noting that some types of door require a sub frame to be fixed (e.g. up and over and side hinged garage doors) so this will need to be taken into account if you are having a new door fitted.   
Average Single Garage Size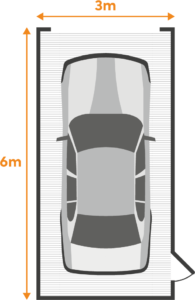 An average single garage is perfect for parking your car, however it's important to take into consideration your everyday schedule to ensure it caters to your basic routine. For example, if you're living with someone who has a disability, you will need to consider the space you'll have around you in a single garage, so that you can maneuver a wheelchair with ease.
Average Double Garage Door Size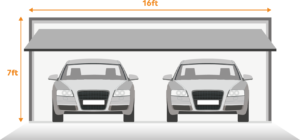 These measurements allow enough room for two vehicles to be parked together alongside one another. If you find that the size of your vehicles means that there isn't much room left to open and close the garage door, the most suitable option would be a roller door as it takes up the least amount of space during operation.
Average Double Garage Size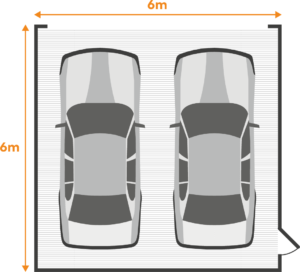 These measurements would easily fit two cars beside one another, so for a large family – an average double garage should offer enough space to cater to your needs. A double garage with one large single door offers homeowners seamless convenience. Should you need to pop out, you needn't worry about awkwardly steering your way out of a narrow gap. It can all be done in one swift movement instead when you have a large enough garage.
Talk to an honest and dedicated team who can enhance and alter the size of your garage or raise the height of your double garage doors. You can then choose a brand new door that'll not only look great but provide you with effortless accessibility that you've been needing.  
Eastern Garage Doors have a wealth of experience supplying and installing a range of garage doors including sectional and automatic garage doors. We also provide garage conversions and alterations, servicing, repairs, front entrance doors, awnings, carports, canopies and verandas. All of our services are brought to you by our fully trained professionals, offering nothing but unrivalled quality. Based in Norfolk, we work throughout a variety of locations – simply find your nearest office today and give us a call.