What kind of garage door do I have?
It may seem simplistic to ask, 'What kind of garage door do I have?' But delve into the detail and the differences become much more definite. With 20 plus styles, different sizes, and 50 plus materials, across generally 5 types, understanding the choices you need to make before you buy is essential. Ask yourself: Is cost or quality your most important consideration? Or is quality the best way to reduce cost?  In other words, will a cheaper garage door provide false economy, or will paying more deliver greater peace of mind? The decisions you make about the type and style of door can affect this. We can advise!
Save money but at what price?
It's important to consider both function and form when choosing a garage door. Not only what the purpose of the garage is but also how secure and safe it needs to be. Product lifespan is also important along with structural integrity post installation. And yes, there are bargains to be had, but this won't necessarily be your lowest quote.
Here are some pointers:
Consider what you are going to use your garage for. If it is to store high value items, then a design tested garage door with a specified security certificate may be more important than one which is untested or lacking intruder alarms.
Also, material choices can have a considerable effect on longevity. For example, a heavy-duty galvanised steel door barrel will last longer than a lightweight steel or plastic door barrel and will come with a 10-year warranty instead of 1 year and won't need replacing earlier than expected. Take our roller doors for instance, there are a lot of options on the market with some designed to last up to 30 years.
Furthermore, look for a supplier who guarantees maintenance and includes yearly checks and repairs, along with multi-year manufacturer's warranties. We at Eastern Garage Doors provide these because we believe in delivering the best value for money as a measure of quality, without which assurances of reliability and product lifespan can fall apart.
Beware the cheap quote – Take for example, a single skin roller garage door, the most affordable of its kind, it can cost on average between £850 and £2000 depending on size and whether it's remote control or hand operated. For a double skinned, foam insulated, aluminium option you'd need to pay more, between £1150 and £2300. This is reasonably what you'd expect, so avoid cheaper options as the chances are you won't receive the highest standard of fitting and future issues often arise.
Faulty garage doors and the miss-selling of warranties have previously been highlighted on the BBCs Rogue Trader programme.
Our advice would also be to use Checkatrade and other review sites to highlight top performers when researching suppliers. You will see many where consistent professional engineering and technical know-how wins over low skilled labour and questionable quality.
Every garage door is safe. Isn't it?    
Safety is a key concern for many garage door buyers. The mantra needs to be one of lowest risk. Cheap garage doors are often not CE marked, not safety tested and don't meet the standards required by law. Moreover, look for built-in safety systems as standard and ask about what additional safety features are available to help mitigate risk, such as manual overrides on motorised units, anti-drop safety brakes, precision tracking and spring safety systems.
How many different types of garage door are there?
There are commonly five different types of garage door to consider. Although each one can be tailor-made to individualise the design and function according to lifestyle tastes.
Up and Over
Common amongst homeowners there are two types of up and over garage door:
Canopy gear – Made of one solid panel, with a pivoting mechanism that tilts the door to sit parallel and above the garage when open and forming a canopy of about ½ of the door when open
Retractable gear – Similarly, the up and over retractable gear lifts the garage door up to comfortably sit inside the garage roof fully retracting all of the door on tracks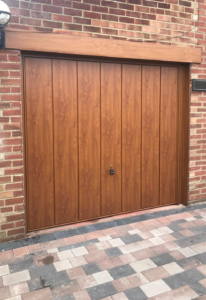 Roller
Roller garage doors fit perfectly in garages that have plenty of ceiling space and provide a smooth vertical opening to maximise space. They can be operated manually or automatically and provide reasonable security. Safety features such as manual override can be added to motorised options.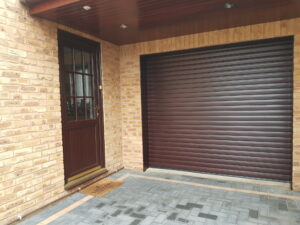 Slide to the Side
Commonly used as a space saver where there is very little headroom, or in larger garages, 'Slide to the side' or 'Round the corner' garage doors open, as the name suggests, by sliding along a side wall, either partially or to its full opening capacity.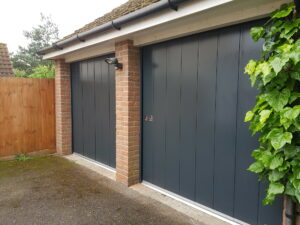 Side-Hinged
Also known as barn doors, side-hinged garage doors are designed with conventional hinges in the same style as a front door.  Available non insulated and insulated with draft sealing. They are useful for garage conversions into storage space or multipurpose rooms and can be configured with a central or asymmetric split. Manual and automatic options are available and polycarbonate or laminated safety glass windows can be added.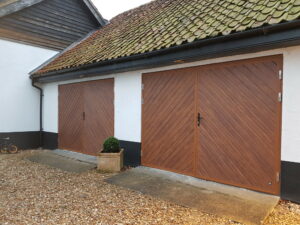 Sectional
Sectional garage doors are made from insulated panels which are sealed to stop heat escaping, useful for garage conversions into an additional room such as a gym or small office. Like roller garage doors they use a rolling mechanism to open and close, vertically at the click of a button – beneficial for short driveways where cars are parked close-up to the garage opening. Automatic remote control also means there is no external handle. These doors are very reliable and provide excellent security, with certified security features to make them extremely burglar-resistant.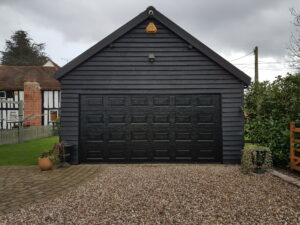 Sizes
Knowing the sizes of single and double garage doors along with the size of the floor area will help you make a measured choice. For some UK average sizes look at our handy guide. To ensure you have the right garage door for the size of garage we can talk you through your measurements.
What is my garage door made of?
Material choices for garage doors play a big role in the aesthetic appeal of your home along with the colour, pattern, framing and furniture. We provide all our garage doors made from low maintenance materials, including steel, aluminium, timber, uPVC, and GRP.
Our experienced team will work with you to select everything from the brand to the right gear options, colour, size and special features. We will then fit your garage doors for you, as approved technicians, and we offer annual servicing and maintenance to keep them operating at their best as well.