Revamp Your Car Haven
For car enthusiasts, the garage is more than just a place to park vehicles; it's a haven to securely park and showcase prized possessions. As your collection grows or you delve into custom projects, space limitations become apparent. One solution to this problem is to broaden your garage door entrance. Eastern Garage Doors explores the benefits of doing this and the crucial role lintels play in this process especially when transforming two single garages into one.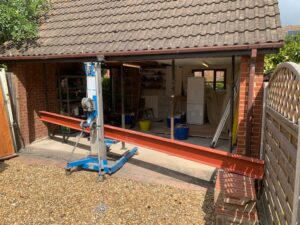 Why consider?
Accommodate Valuable and Larger Vehicles:
Renovating classic cars to their former glory and the emergence of larger SUVs and specialty vehicles, makes maneuverability around tight openings where there is a central pillar in the way very restrictive. Removing this barrier allows you to comfortably park and access your garage space without the risk of accidental damage or scratches. It can give you the confidence to get in and out of the garage without scraping the car or knocking off a wing mirror. With a more accessible entrance you can manoeuvre the car into a better position that'll suit you.
Facilitate Car Modifications:
Enhancing your vehicle's performance and appearance is a breeze when you have ample garage space dedicated to this purpose. This allows you to work on your car with ease and create a space tailored to your needs. Furthermore, specialist garage fit out services can help you to efficiently use the extra room by making tooling and the working area much more practical.
Improve Accessibility:
Increasing entrance space can also improve accessibility for individuals with mobility challenges. Garage door specialists can provide special zero-rated VAT garage door adaptions for the disabled subject to status. Adding a double door can in some instances make your garage more wheelchair friendly. No one wants to get soaked in the rain whilst trying to park in a tight space.
Saves on servicing:
Having one door is less expensive than two. You will find yourself having to do less repairs on one single door, and it goes without saying it'll require less general maintenance than two.
The Role of the Garage Door Lintel
Now that we've highlighted the benefits of increased garage access, let's delve into the significance of lintels in this process:
Structural Support:
One aspect of broadening garage door access is the process of cutting into the current wall or removal of a central pillar to make a bigger opening. This modification can compromise the structural strength of the wall, so it is crucial to add extra support. Lintels are used to span the expanded opening and ensure proper distribution and support of the weight from the wall above.
Load-Bearing Capacity:
Lintels are offered in a range of materials, such as steel, reinforced concrete, and engineered wood, each providing distinct load-bearing capabilities. Expert surveyors meticulously select the suitable lintel according to the dimensions of the garage door and the weight it must bear, thereby avoiding any potential structural problems.
Even Weight Distribution:
A well-installed lintel ensures that the additional load created by the larger garage door is evenly distributed along the lintel's length. This ensures that any new installation functions smoothly and safely.
Professional Installation and Lintel Selection:
Lintel installation is a complex process that require the expertise of experienced professionals. Therefore it is vital to seek an expert. Consult with a reputable garage door specialist who can assess your garage's current structure and advise on the appropriate lintel type and size for your project. They will also ensure high-quality materials are used and have the skills and tools to cut the brickwork accurately and install the lintel for optimal performance and safety.
Conclusion
Creating more entry/exit space is a fantastic option, making the garage more versatile and accommodating. Remember that such modifications require meticulous planning and professional execution.
The role of lintels cannot be overstated. They not only distribute the weight of the wall above the opening but also prevent potential wall damage and ensure smooth operation of the garage door.
So, whether you dream of parking a larger SUV or a custom-built automotive masterpiece, or have restrictive mobility, consider the possibilities that creating more capacity to get and work around your garage offers. Invest in professional guidance and materials to create a secure and usable space where you can continue to nurture your passion for cars or simply address a long-standing problem of difficult access.