How much is a garage door?
Although a straightforward question, knowing how much a garage door costs depends on size, finish, style, level of security and insulation, to name just some factors. Eastern Garage Doors looks at a variety of considerations and the impact they have on what you might pay. 
Size 
Whether a single car width or a double, i.e., can 2 cars fit in side by side, different weights and types of material contribute widely to cost. Double doors especially with heavier mechanisms to counterbalance the load when opening and closing illustrate this. An average single garage door size is 7' x 7', whilst double garage door sizes average 14' x 7'.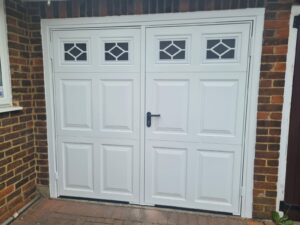 Aesthetics 
In terms of the finish, you might have a particular colour and texture in mind. Perhaps, you want it to match your front door or windows. Panel designs vary enormously from Georgian styles to traditional and modern. An abundance of colour choices is also available usually manufactured in RAL palette colours and wood effect finishes that match most needs. If you want a colour other than white, you may have to pay a bit more, though this isn't always the case with some manufacturers.
What level of security do you need?
Is your garage integral to your house? Do you keep valuable equipment or belongings inside? There are many security features that can help deter thieves, from doors that close and lock automatically, to the durability of panel structure and design, to different grades of locking mechanisms.
Does it need to be insulated?
These days heat loss is a major consideration especially with increasing heating bills and the care of the environment. If the garage space is used as a multi-functional room, such as a gym, home office, studio, utility room, storeroom it would be well worth considering an insulated sealed garage door. Materials, manufactured design, and door thickness all impact insulation levels. For the best protection you need to be asking:
What is it made of?
Is it double skinned?
Does it have thermal breaks?
And, how good are the seals?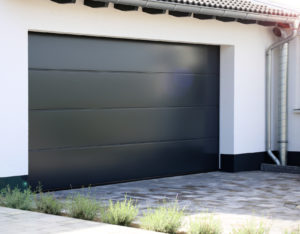 Will you want it rodent proof?
Especially if you keep foodstuffs in the garage you may want to restrict unwanted pests! You may consider a seal to seamlessly fill the gap between the bottom of the door and the ground.
Manual or automatic?
With the modern age of automation, most garage owners choose to go automatic. When looking to replace, it is important to select a renowned electronic system for reliability and hassle-free daily usage. This is because, the highest quality operators provide more safety features and less-stress on high-traffic garage entrances, lasting up to 30 years or more. While, on manual doors, spring balance mechanisms can vary in quality with the best value doors providing multiple anti-drop devices for added protection to stop the door crashing down.
Moreover, let's delve a little deeper in to electric garage doors. Simply stated, an electric operator, a key component of automation, affects what you might pay? Quality is paramount, as it will affect your user experience. The style of garage door, type, size, weight, and purpose influences what model you might need. Various factors can be impacted such as:
The pull and push force on the door
Opening speed
Low power consumption
Outage support
Connectivity
Type of operation and programming
Any installer worth their salt will advise on the best option to deliver optimum, trouble-free performance. Bear in mind also that existing garage doors can be retrofitted with operating mechanisms.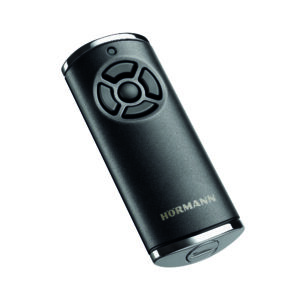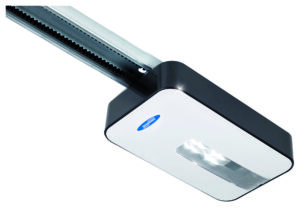 Renovation 
Does anything else need doing? If the structural integrity in and around your garage door is affected, additional work may be required to the surrounding frame, broken floor, fascias, or soffit boards?
Space
Do you need additional space? Are you struggling to get your car inside your garage? It's interesting how many cars just keep getting bigger every time a new model is launched. Some options for creating space include fitting the garage door behind the pillars or closer towards the front of the exterior building facade, fitting a roller door to the exterior, extending framework outwards from the brickwork, or converting two smaller garage entrances into one.
Installation
Do you want a company to fit the door for you and take away your old door? Or do you want to install it yourself? There could be delivery charges if you choose to fit it and there is an onus on you to get the sizes correct. Additionally, some manufactures recommend that their doors are installed by trained technicians.
Reliability
Tried and tested quality products do what they are supposed to do every day of the year, and whatever the weather, providing they are maintained. Always check out review sites such as Checkatrade and Trust Pilot to separate the unfailing from the unreliable.
The Design
Designs vary in the complexity of manufacture, meaning some are simpler to fit than others. Bespoke options which are made-to-measure to specific sizes, design, finish, colour, and functionality, can also impact cost. Take the operating motor unit, for example, on an automatic garage door. If energy saving is important to you, then greener options are synonymous with high-end operators which feature extremely low power consumption with fast opening. Some can also be powered via an optional solar module.
Here are the main designs commonly used in the UK and the main reasons for purchasing them:
Some Approximate Figures
The information below looks at these common types of garage doors and the price range you would expect to have to pay – depending on sizes, design, colour/finish, insulation/single skin and operation. Costs are supplied and fitted based on Eastern Garage Doors' experience over four decades of researching, supplying, and installing the most reliable makes on the market:
| | | |
| --- | --- | --- |
| DESIGN | SIZE | GUIDE PRICE FITTED |
| Up and over  | Single (Manual operation) | £800 – £1200 |
| | Double (Automatic) | £1,800 – £2600 |
| Sectional (Automatic) | Single | £1,400 – £2,900 |
|   | Double | £2,400 – £4,400 |
| Roller (Automatic) | Single | £1500 – £3000 |
|   | Double | £2300 – £3800 |
| Side hinged (Manual) | Single | £1,500 – £3500 |
So, as you can see there is no one size fits all! There is a lot more to investigating what you might need to pay for a garage door and the lifetime value it offers particularly when quality aspects are taken into account. The choices are not always that simple, which is why experts in the field normally like to discuss your requirement first before committing to a price.
In addition, there is a difference between price and value, i.e., value for money – Cheaper products don't always have the same warranties and are more prone to failure, so cheap isn't always the best and the best isn't always cheap! Its fair to say that the lifespan difference of a high-quality well-maintained garage door over a low-cost budget option can be as much as thirty-five years.
Starting out you may search for the cheapest garage door, find a few prices then be unsure, may have a few questions and feel the need for some guidance.
See some examples of guideline prices here.
If you would like some advice, contact one of our experts. They have the technical and product knowledge to help you make the right choices. You can rest assured we can give the best value for your investment with a reliable solution from a wealth of experience backed by very good customer feedback seen in our many reviews.