A Guide To Choosing Garage Door Colours
Give your home the wow factor with an eye-catching colour choice. Just like landscaping and hardscaping your driveway, colour coordinating your garage door colours to your home can make a big first impression and set the right tone for creating curb appeal.
Along with design, reliability, and durability, colours are among the most important choices homeowners care about when updating their homes, and usually comes down to personal taste. Yet there are other practicalities to consider.
Here are five key factors:
Blend In With Local Architecture
Use your style of house and current colourways, e.g., of bricks, stone, window frames, front door, cladding, etc. as the starting point.
Choose one that complements your style of home and others close by. In doing so you can add aesthetic value, reinforce the quality of the property, and give a great first impression of your locality to visitors, and buyers.
Different house styles are defined by their architecture. And, increasingly, the wide mix of colours available are being associated with different property types, e.g., heritage colours which are designed to appeal to owners of period properties, often in soft shades of grey, green, blue, etc. None the less a more modern contrast can also work well say against a painted white or ivory stone wall or red brick, often seen with traditional, older properties. Conversely, heritage colours can also look good with contemporary properties.
So, whether a property is labelled old or modern, you can choose from conventional colours, neutrals or add a pop of colour to suit the theme of your home and the surrounding area.
The effect can still be bold, blend in, and yet still feel cohesive.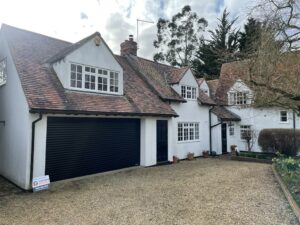 Co-ordinate Colour And Finish
Adding the right finish to the surface can provide further interest. Why not have fun blending style, colour, and finish. These can include a high-quality powder or foil coated look, textured finishes and timber, or woodgrain effects even down to the type of wood colouring such as Golden Oak, Rosewood or Nutwood, depending on door type. Natural timber doors are also available, with stain options.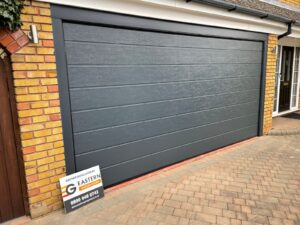 Balance Colour With Exterior Features
Another great tip is to consider the landscaping.
Gardens and the surrounding area can offer a convenient vista which can blend beautifully against the backdrop of your home with your garage door an essential ingredient in this.
Natural colours, like Dark Brown and Chartwell Green, for example, would combine seamlessly with a home surrounded by trees or a cottage garden. Standard colours such as black and white are also often used in contemporary settings. Whilst the vivid colours of plants look stunning against light neutral or pastel tones.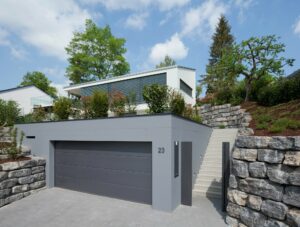 Should I Colour Match With My Front Door?
Though its often the case that surveyors and fitters are asked to match them up. As a general guideline, it all depends on the frontage, size of the property and colourways already in place. If your front door, has a strong, vibrant colour, opting for a subtle colour, such as white or light grey might be the best way to go.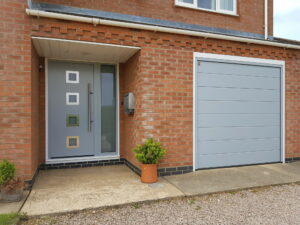 Garage Door Colours v Structure
When matching colours to features such as frame, cladding, or trim, there are no hard and fast rules to follow. Sometimes, it's a good idea to use a colour palette rather than colour matching to create a consistent overall look to your home. This is a useful tip as there can be tonal inconsistencies between house paint colours, metal based colours, and powder coating. However, to stand out from the crowd contrasting colours can also make essential building features jump out.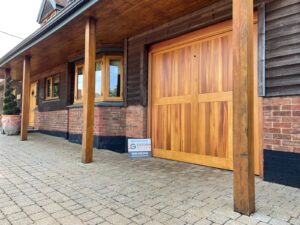 Making the right decision can have a transformative effect on your home. Should you be thinking about selling your property or are simply inspired to increase your garage door impact as a decorative element (on its own or as part of a larger improvement project), at Eastern Garage Doors, we have 30+ colours to choose from, together with additional tonal possibilities, all supported by the RAL colour system.
Bespoke options that increase the likelihood of an exact match to the shade you want, are also available depending on the manufacturer. 
One last tip! When you book a visit always ask a surveyor to bring some samples.  You'll be amazed at the colour options open to you.
Here is just a small selection:
Depicted colours are white, grey, yellow, quartz grey, anthracite grey, steel blue, fir green, flame red, oak and golden oak.